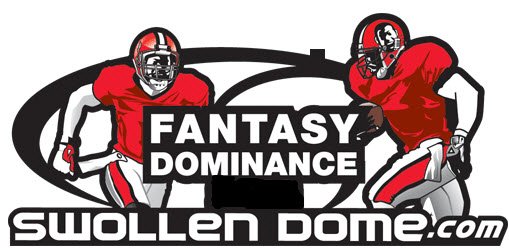 With one week in the books, fantasy owners are already looking to shuffle the proverbial deck and find value and options on the waiver wire. I understand the frustration with failed Week 1 starters, including a lengthy list of running backs. However, I'm reticent to do a massive overhaul out of the gate.
It's one week. Let it breathe.
That doesn't mean that you don't evaluate possible upgrades to your bench. There are certainly a number of players whose roles have changed, or those who outperformed expectations. Make your move. Be bold.
"You'll get no laurel crown for outrunning a burro." – Marcus Valerius Martialis
Quarterbacks
Terrelle Pryor, OAK: I banged the drum on the speculative pickup of Pryor after he was named the starter in Oakland. Pryor delivered a strong, intriguing performance in the near-upset of the Colts in Week 1. He delivered big plays with his arm and ended as one of the week's top rushers. I still ponder what might have been on a gorgeous throw to Darren McFadden that nearly resulted in a 30-yard touchdown pass. Regardless, he's got solid weapons in Streater (below) and Denarius Moore and the rushing bonus looms large.
Carson Palmer, ARI: Palmer effectively spread the ball to his three receivers against the Rams, bringing Larry Fitzgerald (effective from the slot) back to the top of the WR heap and
Philip Rivers, SD: Rivers and the Chargers came out fast on Monday night against the Texans. Rivers ran Ken Whisenhunt's offense beautifully and took full advantage of field position. Of course, Rivers posted a Quarterback Rating of ZERO over the final 25:46 of the game.
Sam Bradford, STL: Bradford posted a big game in the Rams' victory over the Cardinals in Week 1. He completed 27-of-38 attempts for 299 yards with two touchdowns and an interception that was returned for a touchdown. Jared Cook was the receiving star (check the wire) with 141 yards and both of the receiving touchdowns off Bradford's arm. Rookie Tavon Austin logged six receptions for 41 yards. It was a tough matchup against a strong Arizona secondary, and Bradford delivered a strong fantasy line.
Running Backs
Joique Bell, DET: Bell's a worthy handcuff to Reggie Bush, who was checked by the medical staff a couple time in the opener. Bell ran for 25 yards with two touchdown plunges in Week 1, adding five receptions for 67 yards. Remember, he rolled up 900 total yards for the Lions in 2012. He'll remain active in what promises to be a fast-paced, explosive offense.
Bryce Brown, PHI: The fast pace in Philadelphia portends to a decent weekly workload for Brown going forward. LeSean McCoy is going to need a breather on occasion, and we saw Brown amass nine touches and 25 rushing yards in the season-opening win over the Redskins. Remember, Brown dominated (fumbles excepted, of course) in McCoy's absence last season
Pierre Thomas, NO: Thomas matched Mark Ingram's carry count in Week 1 (nine) and out-gained him by 32 yards. He added four receptions for 16 yards. It's tough to predict the workload split in New Orleans, but I can't dismiss a double-digit touch count.
Daniel Thomas, MIA: The running game was awful in Week 1, though Thomas did produce a glorious goal-line plunge. His eight carries yielded just 14 yards, so it's hard to get too excited about him. We'll give Miller another week or two before hitting the panic button.
Bilal Powell, NYJ: I know it's a mess in the Jets backfield, but Powell represents a decent short-term option in Mike Goodson's absence. Powell generated 64 total yards on 16 touches in the season-opening win against the Buccaneers. I don't expect great things on the ground this week against Vince Wilfork and company, but he'll be involved in the passing game. Remember, the Patriots are favored by nearly two touchdowns.
* Fred Jackson is still available in approximately 30% of leagues. He's worth a look-see on the wire as the tag-team partner for C.J. Spiller. Jackson tallied 108 total yards on 17 touches against the Patriots.
** Take a look to see if Ben Tate is available in your league. He put up a high snap count and six yards per carry, and his workload has Arian Foster unhappy.
Wide Receivers
Julian Edelman, NE: Edelman becomes a must-grab for Week 2 with Danny Amendola likely to sit down because of his groin injury. He caught seven passes for 79 yards with two touchdowns in Week 1 against Buffalo (narrowly missing a third), and will undoubtedly take on a huge roll against the Jets.
Reuben Randle, NYG: Randle was one of the unsung stars in that high-scoring Giants-Cowboys game in Week 1. Randle caught 5-of-6 targets for 101 yards while lined up opposite Hakeem Nicks. Opposing defenses will be forced to contend with Victor Cruz in the slot, and the presence of tight end Brandon Myers (another to watch) leaves Randle with mismatches.
Nate Burleson, DET: Burleson's strong Week 1 performance (six receptions for 78 yards) was a bit of a surprise given that he hardly participated in the preseason. Instead, he asserted himself as the No. 2 option opposite Calvin Johnson. Ryan Broyles is the long-term option for the Lions, but Burleson's time is now.
Harry Douglas, ATL: Roddy White is dealing with a high-ankle sprain that limited his availability and production in Week 1 against the Saints. As a result, Douglas took on a larger role with four receptions (six targets) for 93 yards and played 45-of-56 offensive snaps.
Andre Roberts, ARI: Roberts led the Arizona receiving corps with eight receptions for 97 yards against the Rams. He was targeted nine times by Carson Palmer, and the attention afforded Larry Fitzgerald will certainly keep Roberts free and clear to slide across and pile up receptions.
Rod Streater, OAK: Streater was the leading receiver and most sure-handed option for Terrelle Pryor against the Colts. He caught five of the eight passes for which he was targeted for 70 yards. He's a sneaky late-WR3 option this week against the Jacksonville defense.
Marlon Brown, BAL: Brown's emergence in Week 1 was one of the bright spots in the debacle that was the Ravens' loss to Denver. He caught 4-of-6 targets for 65 yards, including a 23-yard reception (one drop on a deep ball). Owners seeking a quick plug-in WR3 this week might look his way against the Browns. The secondary receivers (particularly the waiver wire-worthy Brian Hartline) excelled in Week 1.
Tight Ends
Julius Thomas, DEN: Fantasy owners couldn't dive to the waiver wire fast enough to put in a claim on Thomas. He was the breakout star and story of the game until Peyton Manning registered his seventh touchdown pass of the game. Thomas is a top-notch option this week against the weak Giants defense (see Jason Witten in Week 1). I know that there will be lean weeks as Manning spreads the ball to his myriad weapons, but Thomas' red zone potential keeps him among the top weekly options.
Jordan Cameron, CLE: Cameron was the recipient of great preseason hype and delivered in a big way for trusting owners against the Dolphins. He caught 9-of-11 targets for 108 yards, including a touchdown. Cameron was particularly effective after the catch, putting up 42 YAC!
Kellen Winslow, NYJ: The young quarterback's best friend is, of course, the tight end. I know that it's surprising to see Winslow's name here, but he's completed the comeback to become the top option for Geno Smith. Winslow caught 7-of-8 targets for 79 yards with a touchdown reception. His practice reps will be limited and his injury history might leave you reticent to jump aboard his return. Still, it's hard to ignore that hight target count out of the gate.
Brent Celek, PHI: Celek caught an early touchdown from Michael Vick in the Eagles' season-opening win, prompting great enthusiasm about his role in the Philadelphia offense. He finished the game with two receptions on three targets (56 yards). The spread-out offense gives Celek and his fellow Philadelphia receivers YAC opportunities. He's worth a look as a TE2 option, but it's hard to trust him week-to-week out of the gate.
Tags
Andre Roberts
,
Bilal Powell
,
Brent Celek
,
Carson Palmer
,
FOX Sports Radio
,
FOXSports.com
,
Fred Jackson
,
FSR
,
Geno Smith
,
Harmon
,
Harry Douglas
,
Inside The Swollen Dome
,
Joique Bell
,
Jordan Cameron
,
Julian Edelman
,
Julius Thomas
,
Kellen Winslow
,
Mike Harmon
,
Nate Burleson
,
Philip Rivers
,
Pierre Thomas
,
Reuben Randle
,
Swollen Dome
,
SwollenDome.com
,
Terrelle Pryor