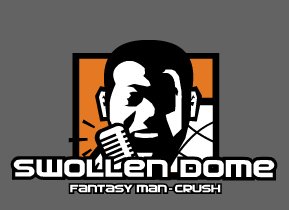 Everybody chant with me. "Be aggressive! Be — Be — Aggressive!"
Alright, so there might have been a "Bring It On" reference at some point this week that got random cheers stuck up in the Dome.
The flag is being raised on a new era for the Dome, and I commemorate this period with the return of the glory, the pageantry of the SwollenDome.com Fantasy Man-Crush. Each day, I will celebrate a person in sports or entertainment that accomplished a great feat, offered a tremendous quote or made you push toward the edge of your seat.
This space will generally be occupied by a player or team, but today I honor the efforts of the Seattle Seahawks, led by general manager John Schneider. Schneider ushered in the new NFL calendar year by acquiring receiver/returner and all-around electrifying offensive force Percy Harvin. Seattle gave up three draft picks, including a first-round selection this year (25th) to consummate the deal.
Schneider was quick to point out after the deal that the Seahawks still possess eight draft picks for next month's festivities.
He wasn't done. Schneider added to his defense by bringing in a pair of ends. Cliff Avril signed at $7.5 million per year (two years), while Michael Bennett inked a one-year, $5 million deal. Seattle also bolstered the secondary by signing Will Blackmon at $715k.
I salute Schneider for his effort to push forward following Russell Wilson's fantastic introduction to the NFL. And just think … this period essentially just started.
I don't believe anybody will be cracking wise on the NFC West for the foreseeable future.
Tags
49ers
,
Cliff Avril
,
FOX Sports
,
FOX Sports Radio
,
Harmon
,
Harvin
,
John Schneider
,
Michael Bennett
,
Mike Harmon
,
NFC West
,
NFL
,
NFL Free Agency
,
Percy Harvin
,
Pete Carroll
,
Russell Wilson
,
San Francisco 49ers
,
Schneider
,
Seahawks
,
Seattle Seahawks
,
Swollen Dome
,
SwollenDome.com
,
Will Blackmon
,
Yahoo!