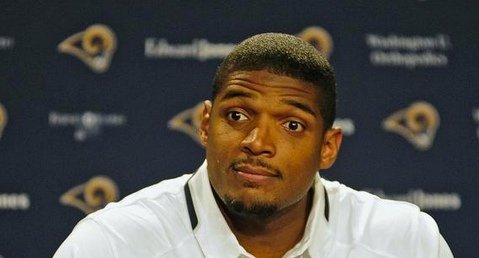 Last weekend's selection of Michael Sam by the St. Louis Rams in the 2014 NFL Draft was an historic moment for the league. This summer, Sam will attempt to become the first openly gay player in the NFL. It's a story that transcended the sports world and became a huge talking point across all media.
The decision by the Rams is just the first chapter of the story. And I, like many in and out of sports media, am intrigued to watch Michael Sam's effort to make the Rams this summer. That second chapter is set to play out on the practice fields in Missouri and during the NFL preseason.
However, I saw this headline on Wednesday afternoon from Zap2it.com. The story will not only play out in mini-camps and with interested crews at Rams Park. Oprah Winfrey's OWN Network is now preparing a reality series that will chronicle his journey to the September opener.
"We are honored that Michael is trusting us with his private journey in this moment that has not only made history but will shape it forever," said Oprah Winfrey. "I am proud of the focus on authentic storytelling in our new documentary series format. The next real-life story we follow in 'The Untitled Michael Sam Project' promises to spark valuable, important discussion on life in America today. Acceptance and illumination start here."
My first instinct was to ask "Why?" "Why do you need to do this?" "The road to making the NFL will be hard enough. The cameras will be there to document the journey."
It took only about five seconds before I had my moment of clarity.
Sam's road to the NFL has to be clear, transparent and open. I understand that the concept of reality television is abhorrent to some. The illusion of "reality" has been shattered multiple times in these series. To stay true to Michael Sam's original statement about his homosexuality and his openness with his Missouri teammates, the entirety of his experience – highs, lows and non-football time – over the next five months had to be chronicled.
We know the power of the Oprah Winfrey brand and her production team's ability to offer compelling storylines that resonate in homes nationwide. Winfrey's team combines with the powerhouse that is the NFL to create a compelling television event. I just wonder if this topic was raised with the St. Louis Rams before ink hit the paper. We'll be watching intently.
Check out the full release here.