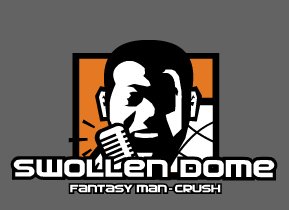 I was going to give the "Fantasy Man-Crush" nod to Nate Robinson following his brilliant performance in the triple-OT win over the Nets on Saturday. With Derrick Rose still OUT and Joakim Noah ailing, the sometimes-maddening Robinson took over the game in the final minutes of regulation and owned the highlight shows — even with the 2013 NFL Draft's completion.
Robinson's brilliant turn on the court was trumped on Sunday when Kobe Bryant made an appearance courtside as the Lakers' tumultuous season crashed to a decisive conclusion. His appearance was something directly from the scripts of the Hollywood luminaries seated in their lofty perches. Bryant appeared immediately after Dwight Howard was ejected.
Howard's opportunity to forge a new identity, to win the adoration of the Los Angeles fans and set himself up for a long career as the toast of Tinseltown ended as a spectacular failure. Bryant returned to the bench and reminded everybody that, while he's on crutches and rocking stylish street clothes, it's still his town. He marked his territory. He diverted attention from the carnage on the court as Tony Parker, Tim Duncan and Manu Ginobili dismantled this cast of unknown Lakers. We take some solace in the fact that there wasn't a J.J. Barea moment.
The car flags are flying at half-mast following the sweep at the hand of the Greg Popovich machine.
But, I salute the effort of Bryant with a "Fantasy Man-Crush" tag. He didn't score a point or dominate the ball as a one-man gang in the fashion to which we've grown accustomed. Instead, he produced a WWE-inspired moment and energized the base, if only for a moment, before a long hand-wringing session that is sure to follow.
Tags
2013 NFL Draft
,
Bryant
,
Chicago Bulls
,
Derrick Rose
,
Fantasy Man-Crush
,
FMC
,
Greg Popovich
,
Harmon
,
Kobe Bryant
,
Lakers
,
Los Angeles Lakers
,
Manu Ginobili
,
Mike Harmon
,
Nate Robinson
,
New Jersey Nets
,
San Antonio Spurs
,
Swollen Dome FMC
,
SwollenDome.com
,
SwollenDome.com FMC
,
Tim Duncan
,
Tony Parker