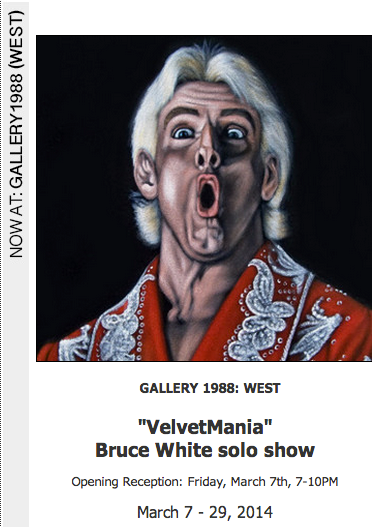 Sometimes you come across the headline for a story that you just can't ignore. Deadspin's "Some Genius Painted 35 Black Velvet Portraits Of Pro Wrestlers" reeled me in without hesitation.
As a child of the 80s, I openly celebrated the advent of the WWE Network this past month. So, this concept is a winner. Of course, I have to wonder whether a Road Warriors print exists …
Here's a glimpse into Jensen Karp's effort to get this series produced.
"Through some magical skill of persuasion that I still don't understand, I was able to convince Bruce to create a show idea I had – to paint over 35 BLACK VELVET portraits of my favorite old school wrestlers from the 80's and 90's, and now the world can see them all in person. Working with Bruce to carefully choose the subjects may have been one of the most exciting experiences I've yet to achieve artistically. Imagine my expression when I got to ask him, "Can you Google Giant Gonzalez?" It opens THIS FRIDAY NIGHT, at G1988 (West), from 7-10 PM, and the artist will be in attendance. Each piece is more stunning than the next, capturing the era and personality of each larger than life wrestler perfectly. You won't know whether to laugh or compare it to the Mona Lisa. From the world renown to the obscure, Bruce & I made sure to depict every legend of the squared circle."
Check out a portion of the gallery and details of when/where it runs here.