Each year, I make several long treks along our nation's highways to take in the glorious sounds of crashing helmets, popping pads and air horns.
Yes, I said air horns. It's a Pavlovian experience. You might not understand.
There is a magic in the air that surrounds training camps. You're not watching NFL players under bright lights or on the grand stage in a stylized television package. No, you're traveling to college campuses or taking a sneak peek at a team's training facility with your neighbors and friends. Fandom needs the preseason, too, and all the jerseys of the past make their way out of the closets.
Stan Humphries, anyone?
It also tugs at the memory, conjuring images of your own short-lived playing career where that glorious sack was more of a slip. Hey, you saw the terror in the quarterback's eyes as you came off of the edge, so it counts just the same.
The first of my 2012 road trips occurred this past Saturday when I jumped in the car, eschewing the tape-delayed frenzy of Olympics coverage for a mid-afternoon practice in San Diego. The Chargers would host the first of their open practices for an adoring throng of roughly 5,200 people.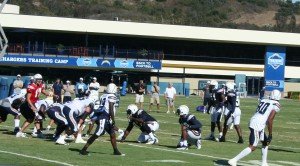 As always, there's a soundtrack associated with sporting events. I kept myself entertained with some FOX Sports Radio and some channel-flipping during commercials as I made the drive south on I-5. The football gods smiled on me as the opening strains of "In the Air Tonight" came across the airwaves.
That sets the tone. Ask any current or former football player (since its release in 1980, of course) about the tunes on their iPods or phones or Discmen and the song inevitably comes makes an appearance on the list. Its appearance on my radio signaled the true start of the preseason.
Sound the air horn.
Let's go to work.
I begin my tale of the late-afternoon practice with a nod to the kickers. I had to make sure you were paying attention.
In reality, this is actually a significant battle on the field and in the fantasy realm. Longtime San Diego kicker Nate Kaeding is returning to action after missing all but one kickoff in the 2011 season. He'll be tested in camp by Nick Novak, who performed well overall in his absence (27-of-34 on field goal attempts) but flailed down the stretch. Novak missed six of his final seven field goal attempts in 2011. He has a better leg for kickoff duty, but Kaeding's career accuracy likely trumps that fact. If Kaeding's leg checks out, Novak will be kicking elsewhere in 2012. I know that you're not charging full speed ahead for a kicker, but I would be remiss not to acknowledge the early-camp competition. Both booted the ball well this day.
Do you want an update on Mike Scifres while I'm at it? He had a punt deflected at the line. There. It wasn't a block because it crossed the line of scrimmage, but it made everyone gasp in the special teams segment of the practice. That's normally churro time.
OK, let's get to the heart of the matter.
The separation between Chargers brass and Vincent Jackson was inevitable. Jackson's now down in Tampa Bay working with Josh Freeman, and Robert Meachem and Eddie Royal were brought in to shore up the receiving corps. I'll get back to them in a minute.
The big story, no pun intended, to start camp was the health of tight end Antonio Gates. A healthy Gates creates the matchup problems normally reserved for a No. 1 wide receiver (see Jackson), so Norv Turner is banking that his recurring foot problems can be held at bay. My first thought at seeing No. 85 running routes was that he looked leaner than the recent past and had a quicker step down the seams. Gates picked through the San Diego defense and cut more easily than the labored game we'd witnessed in either 2010 or 2011. Most importantly, Gates demonstrated his dominance in the red zone with a pair of one-handed grabs to the delight of the sizable crowd. He's slated third in my preseason tight end rankings, but I might narrow the separation between he and Jimmy Graham in the overall list after watching this workout.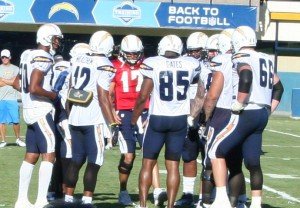 Philip Rivers exhibited great touch on the ball in those red zone tosses to Gates and lofted several beautiful deep balls that were corralled by Vincent Brown and Meachem. The touchdown toss to Meachem was an impressive timing play, while Brown laid himself out to make a catch. Forget that he doesn't have a "true No. 1," the rejuvenation of Gates alongside a deep corps keeps Rivers a dominant force in Norv's offense. He's one of the forgotten veterans this draft season as owners seek out "upside." I enjoyed the fact that, well, Rivers seemed to be enjoying himself.
We saw a bit of Vincent Brown last season when he popped onto the radar because of injuries and became a solid third receiver play for two weeks in the middle of the season (19 catches overall). He's still high on my "Sleeper" breakdown as the passing distribution shakes out, but he's currently sitting in a secondary role (WR5 in most drafts) behind Meachem and Malcom Floyd.
Meachem comes from New Orleans, where he operated as one of the many receiving options deployed by Drew Brees. As a result, fans and fantasy owners witnessed glimpses of stardom potential, but he never operated as a true No. 1 option. He's got every chance to put a stranglehold on that job in San Diego. Running alongside a healthy Gates should do wonders for Meachem in his new digs. He's currently being selected as a WR4, but there's most definitely WR2 potential with Rivers flinging away.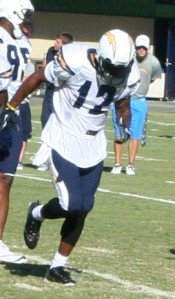 Brown is expected to battle former Denver receiver Eddie Royal for that third slot. Royal missed the Saturday workout, though Norv Turner sung his praises throughout mini-camps. Royal was once a PPR machine in fantasyland as a member of the Broncos.
Floyd has, of course, demonstrated flashes of big-time playmaking ability in the past, but hasn't been able to stay healthy. He's expected to start opposite Meachem and has the size and speed to stretch the field. Unfortunately, there's sizable risk associated with his selection.
Return man Michael Spurlock stood in for Royal and wowed the crowd with his quickness after the catch. He'll be locked in a battle with Roscoe Parrish for a roster spot.
Jarrett Lee was the lone backup quarterback in uniform on Saturday. The undrafted former LSU signal caller was, as expected, uneven on the field. I asked some of the fans if they were disappointed that Kyle Boller decided to retire instead of reporting to the team. I swear that I heard crickets. As for Lee, I'm still trying to find out why he didn't get a shot in the title game.
Charlie Whitehurst, a former San Diego draft pick, re-signed with the team this offseason and has been sidelined because of a knee injury. As a result, the team circled the wagons to find a veteran arm and settled on Kevin O'Connell, the Patriots' former third-round selection. O'Connell had worked this offseason with former San Diego State teammate and aforementioned Harmon Man-Crush Vincent Brown.
Other than Gates, the most talked about player coming into camp was running back Ryan Mathews. Concerns about his injury history have made fans and fantasy owners moderately skeptical, but the dearth of 20-touch running backs and 2011 breakthrough (1,600 total yards) make him a consensus top-8 back. Mathews sported a fantastic haircut and went through the paces, as expected. He came into camp in shape and made sharp cuts.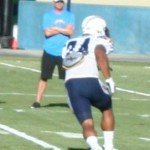 ** Of course, everyone is now talking about Mathews' auto accident of Monday night. Mathews told reporters that his elbow was sore and that he might miss a second practice on Wednesday. I'll keep tabs on that and make the appropriate updates as information becomes available.
• The Chargers have a number of veteran running backs in camp vying for touches behind Mathews. None of the options are standouts, and would only capture attention if Mathews were to miss significant time because of an injury.
• The leader of that group is Ronnie Brown, who ran well between the tackles and saw extensive action as a receiver out of the backfield here. Norv Turner talks of working the "Wildcat" a great deal, but that seems to be mainly preseason bluster. Still, Brown didn't exactly add a ton of wear-and-tear on the tires last year in Philadelphia. As such, a shift into Turner's offense might give him some life as a No. 2 back to Mathews.
• Jackie Battle, who rushed 149 times for the Chiefs in the absence of Jamaal Charles last year, was signed to play special teams. However, he may factor into the mix if injuries befall Mathews or Brown. Battle saw work in the red zone drills and bulldozed defenders to stir the crowd.
• Finally, there's Le'Ron McClain, who returns to the fullback role ahead of Mathews. There is potential for McClain to slide into the vulture slot, but there's no reason to believe that he or any of these options will wholly play the Mike Tolbert role.
The San Diego defensive front did manage to pressure Rivers on occasion and disrupted Lee's timing for much of the practice. Optimists will point to the efforts of Shaun Phillips and Donald Butler out of the linebacker corps and the push up front from Corey Liuget. Pessimists wonder aloud how long the reconfigured San Diego offensive line will take to gel.
That, as I see it, is one of the two biggest questions facing Norv Turner as the preseason gets underway. Will the offensive line be able keep Rivers upright? Will Mathews and Gates give Turner (and fantasy owners) a full 16 games?