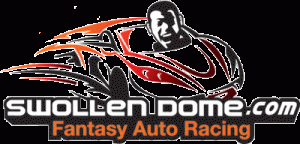 The Sprint Cup Series now takes a deep breath.
"The Great American Race" needed a big show in the aftermath of Saturday's tragic turn in the Nationwide Series. While detractors might bemoan the single-file racing and lack of "big moves" during the race, I believe that NASCAR got the jumpstart to the 2013 campaign that it had anticipated.
It helped that Danica Patrick raced from the Pole Position and stayed among the leaders.
It helped, though not for fans of Stewart, Harvick and others that a multi-car wreck occurred early in the race. I don't sidestep the issue. We can talk about safety and track improvements and equipment upgrades all we want. Some percentage of onlookers awaits a wreck, just as they do a fight on the hockey rink).
It helped that an established name (Jimmie Johnson) rode into Victory Lane and that Dale Earnhardt, Jr. was right on his tail.
Television ratings were higher, and I'd already referenced higher prices for ad buys in a previous post. Can the circuit sustain momentum? Will Johnson and the No. 48 team dominate the Gen-6 car?
Let's get into the field at Phoenix International. Not surprisingly, Johnson is at the head of the class.
---
Following the Leaders:
Jimmie Johnson, No. 48 Chevy
Analysis: Win a race and get an extension on your sponsorship deal. That's how the 2013 Sprint Cup Series season began for Johnson and his squad, including a trip to make cupcakes at the world-famous "Sprinkles" at The Grove. Johnson overcame a recent funk at Daytona to claim victory and introduce the Gen-6 car to the circuit.
He's among the favorites for this week's race in Phoenix (I know. When isn't he?). He owns the best average running slot on the circuit in the past eight years, generating a ridiculous 7.1-position running slot (87.9% of all laps run inside the top 15). Johnson crushes the competition with a 6.5-position average finish during this period. Johnson's generated 15 top-10 finishes in 19 career starts here, including four wins.
Tony Stewart, No. 14 Chevy
Analysis: A lot was made regarding Stewart's O-fer in the Daytona 500 during his career. Unfortunately, the streak continued last week when Stewart got caught up in the wreckage that also claimed fellow race favorite Kevin Harvick. I salute Stewart for staying back in Daytona to visit the hospitalized spectators from the Nationwide race.
Stewart owns the second-best running slot over the past eight years (10.2) with a 13.3-position average finish. However, he's also never claimed victory in Phoenix. He's winless in 22 starts with 10 top-10 finishes (three in his past eight starts).
Kurt Busch, No. 78 Chevy
Analysis: Things started well for Busch at Daytona. He qualified 11th, but his day changed quickly when he was caught up in the wreck on lap 33. Busch and the Furniture Row team battled through 195 laps to finish 28th.
Busch warrants a look-see at Phoenix, where he's produced the third-best average running slot in the past eight years (10.4) with a 13.3-position finish. He generated five top-10 finishes in his past eight starts, including a victory, and raced inside the top 15 in 74% of the laps run.
Kyle Busch, No. 18 Toyota
Analysis: Don't say I didn't warn you. Busch made contact with the No. 5 Chevy of Kasey Kahne early at Daytona, thereby crushing his fantastic qualifying effort and sending him to a 34th-place finish. Busch qualified 12th in the Subway Fresh Fit 500 last year and parlayed the strong starting position into a sixth-place finish. He later raced from the Pole when the series returned to Phoenix and logged a third-place finish. Busch had generated just two top-10 finishes in his previous six Phoenix races, so the risk-reward element is still present.
Take the long view. Busch has produced 10 top-10 finishes in 16 career Phoenix start while averaging a 13.3-position finish.
Jeff Gordon, No. 24 Chevy
Analysis: Gordon's legion of fans came to Daytona excited about the qualifying effort that put him on the front row. Alas, Gordon couldn't sustain early momentum (9.4-position running slot) and finished a disappointing 19th. Phoenix offers Gordon backers a tremendous opportunity. In the past eight years, Gordon has produced the fourth-best average
running slot (10.6) with a 13.3-position average finish (tied-seventh). He raced inside the top 15 in 80% of all laps run.
Mark Martin, No. 55 Toyota
Analysis: While the world watched Danica Patrick's big run and Jimmie Johnson's mastery of the Gen-6 car, Martin quietly ran a fantastic race en route to a third-place finish at Daytona. Now, he rolls onto a track where he ranks among the leaders in every statistical measure. In the past five years, Martin owns the best average finish (8.1) with six top-10 finishes in eight starts. Taking a slightly longer view, Martin has averaged an 11.8-position running slot over the past eight years while running inside the top 15 in 69.9% of all laps run. Martin takes a slot on the Dome Racing squad this week.
Denny Hamlin, No. 11 Toyota
Analysis: The No. 11 Toyota was game last week, avoiding early incidents to charge up 21 positions from a dismal 35th-position qualifying effort. Look for that ride to push toward the top of the heap this week as well. Hamlin rode to victory in this event last season. He then returned to generate a second-place finish in the November race. Taking a longer view, Hamlin tied for the third-most top-10 finishes (four) in the past five years while averaging a solid 15.1-position qualifying effort (9.6-position finish).
Kevin Harvick, No. 29 Chevy
Analysis: Harvick was one of the favorites coming into Daytona. Alas, the No. 29 ride got caught up in the mess early and rolled to a disappointing 42nd-place finish. I know. I received the minimal contribution to my roster last week as well.
He's still a very worthy option this week at Phoenix. Harvick has produced a tepid 23.5-position qualifying slot over the past five years at the track, but he's produced the eighth-best average finish (12.4). Harvick's generated four top-10 finishes (three top 5s), including a victory.
Greg Biffle, No. 16 Ford
Analysis: Biffle blew past his recent Daytona efforts to produce a sixth-place finish in the season opener (he started fifth). Though Biffle has not dominated the Phoenix track, he's consistently closed well to bring fantasy owners a pile of points. The No. 16 Ford has raced inside the top 15 in only 56.8% of the laps run in the past eight years, but has rolled to a 13.7-position average finish (14.9-position average running slot).
Ryan Newman, No. 39 Chevy
Analysis: That was a big run for the No. 39 Chevy at Daytona. Newman charged from the back of the pack (he started 34th) to register a fifth-place finish in the season opener. It's a significant point. For years, Newman was "The Rocket Man." Although he doesn't race from the front as frequently anymore (he's averaged a middling 18.5-position qualifying slot in the past five years), Newman has frequently closed things out well. He's averaged a 9.4-position finish during this period, producing five top-five finishes, including a victory.
Brad Keselowski, No. 2 Ford
Analysis: Forget the long-view averages with Keselowski. He's been a different driver since last season, and last week's effort at Daytona was just another example. Keselowski produced a fourth-place finish in the opener and looks to keep that championship momentum rolling. The long view on Keselowski reveals a 19.9-position average finish with two top 10s in seven starts. I'll take the recent performances of the No. 2 Ford as the benchmark and slot him into the lineup.
---
Approach With Caution:
Dale Earnhardt, Jr., No. 88 Chevy
Analysis: The Sprint Cup Series received two huge gifts in the season opener. Danica Patrick raced off the Pole and put forth a top-10 effort. Earnhardt, Jr. evaded the early-race mess and charged 17 positions from a middling qualifying effort to finish second.
Earnhardt, Jr. hasn't fared as well during his Phoenix career. In the past five years, the circuit's most popular driver has generated just a single top-10 finish in eight starts. In fact, Earnhardt, Jr. has averaged a 22.3-position qualifying effort with a 20.1-position finish during this period. Over the past eight years, he's raced inside the top 15 in only 41.9% of his laps completed.
Carl Edwards, No. 99 Ford
Analysis: With two Poles and four top 10s in his past eight starts at Phoenix, Edwards represents a strong play this week. During this five-year period, Edwards has averaged a strong 11.5-position finish. That's just one-tenth of a slot better than his average qualifying effort. He's consistently raced at the front of the pack and will be a force this week. Get your back-flip ready!
Leave that disappointing Daytona run (33rd) in the rearview.
Kasey Kahne, No. 5 Chevy
Analysis: Kahne got caught up in the mess early at Daytona and struggled to finish in 36th place. It was an unfortunate start to the season for this high risk-high reward option after registering a sixth-position qualifying effort. Kahne represents a difficult play for fantasy participant this week. He's produced three top 10s in his past eight starts, though he's averaged only a 17.8-position finish during this period overall. Kahne is a recent winner here and qualifies well (12.1-position qualifying slot). Kahne's a solid No. 2 or No. 3 driver.
Danica Patrick, No. 10 Chevy
Analysis: I'm still incredulous that critics derided the strategy by Patrick and her team down the stretch at Daytona. Yes, I understand the desire to see a big charge and aggressive move toward the checkered flag, but let's put things in perspective. Patrick won the Pole, led a lap and closed out a top-10 finish. That's a mighty fine start to 2013, however you cut it.
Patrick got the nod for the final roster slot last week. She's worthy doubling up on at Phoenix. Patrick improved 20 slots over a dismal qualifying effort last November in her Phoenix debut to claim a 17th-place finish, her best effort of 2012.
---
Longshots:
Bobby Labonte, No. 47 Toyota
Analysis: The No. 47 Toyota put together a fantastic run in the opener at Daytona, successfully eluding hazards en route to a 15th-place finish. His recently history at Phoenix is less compelling, but the secondary list has few viable driver options at the ready. Labonte has averaged a 23.5-position finish in the past five years, failing to produce a top-10 finish while recording one DNF. If you take a longer view, you find a history of success. Labonte had produced five top-10 finished in his previous nine starts.
Jamie McMurray, No. 1 Chevy
Analysis: McMurray raced to a dismal 32nd-place finish in the Daytona 500 after registering a middling 20th-position qualifying effort. He's recorded a strong 16.1-position average qualifying mark over the past five years, though he's parlayed those efforts into a mediocre 22nd-place average finish (one top-10 finish).
McMurray's a difficult play this week, as he's logged only two top-10 finishes in his 19 career Phoenix starts with four DNFs. Still, he's averaged a respectable 21.8-position finish, thereby making him worthy of consideration for that final roster slot.
Ricky Stenhouse, Jr., No. 17 Ford
Analysis: I'm running with the young gun in the final slot. Stenhouse, Jr. was impressive in the season opener at Daytona. He improved 16 positions over his qualifying effort to generate a strong 12th-place finish. Remember, the "conservation of starts" methodology and the split of driver tiers force us to give the young, untested drivers a closer look. Stenhouse, Jr. is that driver for my squad in Phoenix.
---
My team for this week includes Kevin Harvick, Mark Martin, Ryan Newman and Ricky Stenhouse, Jr.
Go forth and dominate.