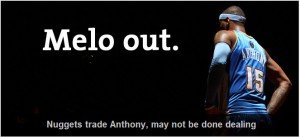 I had hoped that Carmelo Anthony would be traded during the NBA All-Star Game itself, thereby allowing the scoring machine to do a WWE-like "Heel" move to strip off the WEST jersey. Alas, it didn't go down until Monday night … after he'd taped a spot with Conan O'Brien.
The picture from The Denver Post's website says it all. It's time to move on to the next thing. Anthony made it clear that he wasn't staying in Denver as early as the first day of the regular season. It was just a question of when and who would step up to meet the asking price.
On one level, I'm still wondering why a team would trade for a player seemingly predestined to sign with them this off-season. We were deprived of another prime-time special!
Of course, the looming CBA talks and the distinct possibility of a work stoppage in 2011-2012 (far more likely than that of an NFL stoppage) might have something to do with that. A hard cap and franchise tags are two ideas being bandied about as discussion points for this summer's negotiations.
Anthony is a scorer and gives New York the extra sizzle alongside Amare Stoudemire. They now have two-thirds of the "trinity" in place, and there are a couple of premiere point guards on the radar for free agent deals soon enough.
Maybe the move to the East will make Anthony want to play some defense.