Happy Birthday, Star Wars.
As we commemorated Memorial Day on Monday, I spent some time relaxing with my family grillside. I scrolled through my Twitter feed and saw a note from one of those "This Day In …." accounts. Yeah, I'm one of those people who loves information overload and follows too many Twitter accounts. I'm trying to be better, but I can't help it.
The notice read that Monday marked the 38th anniversary of the wide release of the Sci-Fi classic. That's right. It's been 38 years since George Lucas unleashed this masterpiece, this multi-layered universe. I was three years old when Star Wars hit theaters, so I clearly don't remember any of the marketing efforts (commercials, trailers, etc.). My knowledge of this magical place really started with The Empire Strikes Back.
Just look at this picture from Mann's Chinese Theater in Hollywood.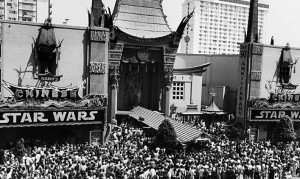 Since that fateful day, Lucas' efforts have spawned six sequels (the latest to arrive this Christmas Day), numerous technological advancements with wide-reaching ramifications, LEGO recreations, cartoons (Rebels), books, action figures and so much more. The business of Star Wars continues to thrive and expand through the years.
Disneyland and Disney World patrons line up to partake of the "Star Tours" ride. The folks at Disney can't produce toys and merchandise fast enough. I can only imagine what the meetings are like as Disney executives contemplate the expansion/reconfiguration of the parks to best capitalize on the franchise.
I need to get to my folks' place and go through the old action figures. Over/under on the number of them that can turn their heads is 20%. If you lost a lightsaber fight in our world, well, you get it. Lots of glue in the Harmon household.
My older daughter has been introduced to the original Star Wars films and eagerly anticipates The Force Awakens, though she still wants an explanation about Jar-Jar Binks. 
Sit back and listen for the sound of the cash register.
Tags
38th Anniversary
,
38th Anniversary Star Wars
,
A New Hope
,
Disney World
,
Disneyland
,
Empire Strikes Back
,
George Lucas
,
Grauman's Chinese Theater
,
Happy Birthday
,
Harmon
,
Lucas
,
Mann's Chinese Theater
,
Mike Harmon
,
Return of the Jedi
,
Sci-Fi
,
Star Wars
,
Swollen Dome
,
SwollenDome.com
,
TCL Chinese Theater
,
The Force Awakens
,
Twitter