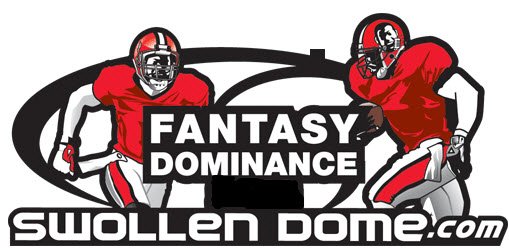 The games of Week 5 brought us a fresh batch of angst, injuries and curious performances. We watched a masterpiece from Peyton Manning and Tony Romo in Dallas. Tom Brady saw his touchdown streak fall to the wayside in a weather-impacted game against the Bengals (what are they?).
Of course, the Texans, Chargers and Falcons left us scratching our heads. Matt Schaub (named the starter against the Rams) was overrun by the San Francisco defense. Philip Rivers floated late interceptions to crush a comeback effort against the Raiders. The week finished with a terrible effort out of the Atlanta defense against rookie Geno Smith, who had been prone to ill-timed throws and absorbing sacks through the first quarter of the NFL season.
And then, the Jay Glazer report regarding Julio Jones' foot injury sent many fantasy owners to the edge.
It's time to bring you back with a trip to the waiver wire for Week 6. The aforementioned Falcons take a seat this week, forcing fantasy owners to seek an alternative for Matt Ryan (two touchdowns in each of his five games). Ryan Tannehill, Mike Wallace (Hartline and Gibson in PPR leagues), Charles Clay and the disappointing Lamar Miller sit for Miami.
Let's start at QB.
Ben Roethlisberger, QB, PIT: Roethlisberger hasn't been world-beating to date, but he's an intriguing proposition for the balance of the season. He averaged 307.8 yards per game through the Steelers' first four games. The return of Le'Veon Bell (and tight end Heath Miller) portends to more balance and better downfield opportunities going forward.
The Jets have allowed the 13th-most fantasy points to quarterbacks (nine touchdowns and one interception).
* I predict that I will be talking about Markus Wheaton in 3-4 weeks in this space. He's currently recovering from a broken finger.
Jay Cutler, QB, CHI: Cutler has scored the 10th-most fantasy points among quarterbacks. The Giants have allowed the third-most fantasy points to opposing quarterbacks (four multi-TD games). Martellus Bennett may miss this one, but Brandon Marshall, Alshon Jeffery (see below), Matt Forte and Early Bennett are more than enough against this weak New York defense.
Terrelle Pryor, QB, OAK: Pryor made his fantasy impact early in the late Sunday game against the Chargers that nobody stayed up to watch. Suffice it to say, defenses will eventually keep him from rolling right. This week's game in Kansas City doesn't make Pryor a starter, but there's no reason that he should remain on the waiver wire. The Chiefs have allowed the 7th-fewest fantasy points to quarterbacks.
Chad Henne, QB, JAX: Blaine Gabbert will miss Week 6 against the Denvers with a strained hamstring, thereby putting Henne back in the top spot this week. And, with a huge deficit expected (and pretty much each week going forward, per Bovada
Check out the future https://twitter.com/JimmyTraina/status/388002195813048321/photo/1" target="blank"> lines.
Le'Veon Bell, RB, PIT: He was still available in about 20% of leagues when I started to scratch this bit out. I'm not quite sure why that is the case. The Steelers are still figuring out their offensive line issues, but the team has never swayed from the idea of having Bell become a workhorse tailback when healthy. He scored twice in London ahead of the Bye.
Yes, it's a difficult matchup against that Jets front and perhaps he doesn't crack your RB2 slot this week. He should be owned in every league.
Danny Woodhead, RB, SD: Woodhead has become a PPR monster. I discussed his value in previous columns, so I shan't belabor the point here. Woodhead has been targeted 36 times through five weeks, posting at least 50 receiving yards in three consecutive games. Add a handful of carries per game and you're looking at 14 touches per game in the past four weeks.
Jonathan Stewart, RB, CAR: Stewart was dropped in a ton of leagues. At a minimum, he'll force a workload split with DeAngelo Williams upon his return. You know the drill. He fights Mike Tolbert for goal-line carries in a muddled backfield, but touches are touches. Sigh.
Willis McGahee, RB, CLE: McGahee hardly dominated the Bills in Week 5, but I can't discount the heavy workload and goal-line opportunities on the board. He faces the Lions this week with Brandon Weeden under center. Detroit has allowed the sixth-most fantasy points to running backs.
Zac Stacy, RB, STL: Stacy got the start and posted a fantastic 5.6 YPC average in Week 5 against the Jaguars. He'll face the reeling Texans in Week 6, a squad that has allowed the 11th-most fantasy points to running backs. Of course, much of the damage was done by the 49ers in Week 5. Regardless, a large touch count puts him in line for a low-end RB2 valuation this week.
Alshon Jeffery, WR, CHI: What do I need to say? I banged the drum hard for Jeffery in the preseason, and he's delivered in a huge way for fantasy owners in the past two weeks. Jeffery's logged 325 receiving yards with touchdowns in back-to-back weeks. The Bears start Week 6 on Chicago's on Thursday night against the porous New York Giants secondary. Get the hats out for the hat trick!
Terrance Williams, WR, DAL: Williams was on the radar following Week 4. Remember, he nearly scored in that crushing loss to the Chargers, but fumbled inside the five-yard line. Williams exploded for four receptions and 151 receiving yards (82-yard touchdown) in the shootout loss to Denver. Miles Austin will be back (as of this writing), making Williams a dangerous No. 3 WR for the Redskins this weekend.
Justin Blackmon, WR, JAX: Blackmon returned to the fantasy radar in a huge way against the Rams in Week 5. He caught 5-of-9 targets for 136 yards, including a touchdown snag from Blaine Gabbert. The Jaguars are obviously huge underdogs to the Broncos for Week 6, and that means a lot of Chad Henne winging it downfield. Blackmon finished last season with a flurry, and the team's struggles portends to a high weekly target count.
Keenan Allen, WR, SD: Allen was on the "Ninja" list coming into the season as Ken Whisenhunt looked to reignite Philip Rivers. Injuries to Danario Alexander and Malcom Floyd promoted Allen to a prominent role perhaps quicker than expected, but he performed well in a post-prime time against the Raiders. He's caught 11 receptions on 15 targets in the past two weeks. The San Diego defense isn't getting any better, and we can reasonably expect Rivers to keep chucking the ball downfield with great regularity.
Austin Pettis, WR, STL: Pettis was the receiving star in the Rams' win over Jacksonville. He caught 4-of-5 targets for 49 yards, including two touchdowns. The second-round draft pick out of Boise State has been targeted 36 times by Sam Bradford (at least five targets in each game). Though he has yet to post a huge yardage game, he's on the radar in PPR leagues and as a sit-down receiver in the red zone (four touchdowns).
Reuben Randle, WR, NYG: Randle posted his second strong game of the season Sunday's loss to Philadelphia. He had been invisible in the three prior games, but rebounded with a six-reception, 96-yard stat line with two touchdowns. The Chicago secondary is banged up (Tillman is a game-time decision), and the Bears haven't generated a consistent pass rush all season.
Garrett Graham, TE, HOU: The injury to Owen Daniels is another blow to an already-reeling Houston squad. Fantasy owners who used Daniels can look to his tag-team partner and red zone option Graham as his replacement. Graham has amassed 21 targets thus far, producing 15 receptions (three touchdowns).
Sean McGrath, TE, KC: McGrath has become a solid secondary option for Alex Smith in the Chiefs' past three victories. He's logged 13 receptions in 15 targets during this period, including a touchdown grab against the hapless Giants.