The 256-game marathon to the NFL Playoffs finally concluded last weekend with a wild, though familiar, ending in Dallas. The Cowboys fell to the Eagles, a game that concluded with a Kyle Orton interception and a lot of hand-wringing.
Of course, the close of the regular season also signaled the end of most fantasy competitions. Since then, fantasy owners have been trying to figure out to keep the competition rolling. There are many types of leagues available for the playoffs and, as such, I put pen to paper to roll out rankings for the Wild Card weekend. You can find those below.
I'm looking for impact plays from players deeper on the radar in these games, with a healthy Andrew Hawkins becoming a playmaker for the Bengals. Aaron Rodgers and the Packers are dangerous at home (I'll save the ticket diatribe for another time), and I'm banking on Darren Sproles to be active in the absence of Pierre Thomas at Philadelphia.
To that end, I entered a team in the one-week Salary Cap game from Fair Market Fantasy . I snagged Aaron Rodgers coming off of his last-second win against the Bears (and doubled up with Randall Cobb). Eddie Lacy will be called upon to log a heavy workload in the frigid temperatures, but footing questions (and some injury concerns) in the San Francisco back-seven leads to YAC!
Check out my full roster below, replete with NINJAS!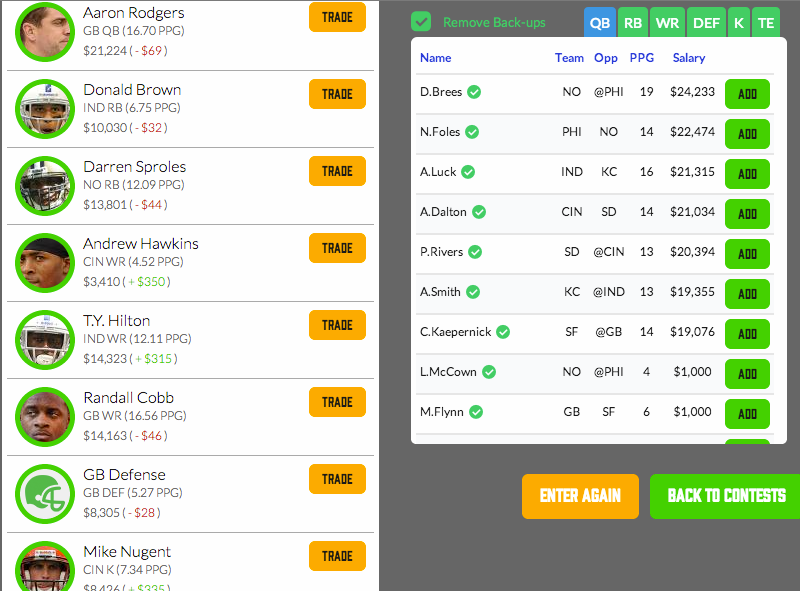 ---
Compete against my squad or build your own contest for family, friends and colleagues at Fair Market Fantasy. We always talk about how to build the perfect roster on sports radio, the Twitterverse, the blogosphere and the local watering hole. Well, there's no snake or auction draft to thwart your plans for global domination, just your cap management.