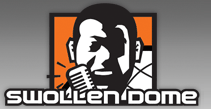 When I walk into Disneyland with my family, I get those heart-swelling, feel-good moments while I see the sea of smiles and squeals of delight from the throng of children. It takes about 20 minutes for my inner cynic to take over before those faces become dollar signs. Think about it the next time you hit an amusement park or a county fair or place with massive crowds. Little Washington and Lincoln faces are suddenly grinning at you ….
I'll save that movie spec script for another time. The folks at Disney are working up something big to pull your information into one hub. Get rid of those ticket stubs, Fastpass tickets and those pesky ATM/Credit Cards. You can rid yourself of the Costanza wallet and bounce through the park lighter and leaner with the "MagicBand."
Read up on this latest Disney innovation.
——
If I'm the park administrator or a chief marketing or salesperson, I want to know where you're congregating and spending each minute of your visit. The "MagicBand" will prove an invaluable tool to help Disney tailor the park to your needs … and streamline the cash flow from your pocket … like magic.