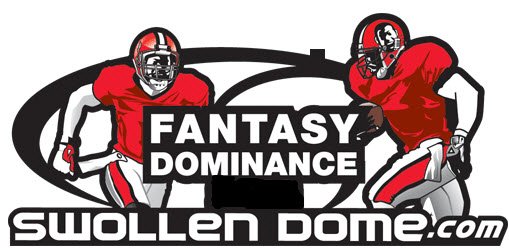 It's that most wonderful time of the year. We're rapidly approaching the opening of training camps across the NFL landscape. Many teams are taking their work in-house with a sprinkling of public dates to whet the collective appetite. That means that it's time to start rolling out the 2013 Fantasy Football Draft Guide. It all starts with the preliminary draft rankings. Last year, SwollenDome experienced some great success with a top-10 finish in Draft Rankings on FantasyPros.com on the heels of a top-10 effort in baseball. So, let's get it on.
I almost want to put someone else in the No. 1 Running Back slot, but that'd just be a terrible ploy to drive views and derision in the industry. Adrian Peterson ran wild in 2012 in his return from a major injury, prompting the natural conclusion that the "Rise of the Machines" has become a reality.
I thrust Doug Martin into the second slot with one eye on a healthy offensive line and a more cohesive, consistent passing game.
There are many players worthy of consideration for the third slot. I know Foster will likely appear in the No. 2 slot on other sheets in this fantasy realm, leaving Martin several other players (LeSean McCoy, Ray Rice, Marshawn Lynch, etc.) for the third slot. I'm high on rookies Le'Veon Bell and Montee Ball, though I'm still reticent to wholeheartedly endorse Chris Ivory (what are the other options in NY, truly?) or David Wilson (Andre Brown, anyone?).
What say you?
Tags
2013 Fantasy Football
,
2013 Fantasy Football RB Rankings
,
Adrian Peterson
,
Arian Foster
,
Chris Ivory
,
David Wilson
,
Doug Martin
,
Fantasy Football
,
Fantasy Freaks
,
FOX Sports Radio
,
FSR
,
Harmon's First-Take 2013 Fantasy Football RB Rankings
,
Mike Harmon
,
RB Rankings
,
Running Back Rankings
,
Swollen Dome
,
SwollenDome.com