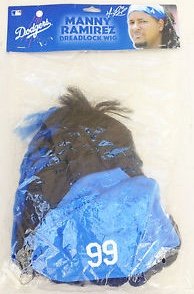 I still want to know what happened to the wigs that were left over when Manny Ramirez left Los Angeles during the 2010 season (he was waived and joined the White Sox). They were hot sellers for a while in Dodger Stadium gift shops at a cool $25 each. Perhaps they can be repurposed with a sticker or logo update as the former World Series Champion comes out of retirement to join the independent Kochi Fighting Dogs in Japan.
Ramirez spent the last two seasons working for the Chicago Cubs as a hitting consultant, and he'll pick up another World Series ring at some point for his efforts. My hope is that they have to travel to Japan before a game and get to witness classic "Manny Being Manny," and the huge responses long drives bring.
The positive drug test in 2009 clouds the brilliance of his 1,100-extra-base hit, 1,800-RBI career, but he was one of the most electrifying right-handed hitters of his time. And now the kids in Japan get to say – "Isn't that?"
Check out the details of Ramirez's return to the field.