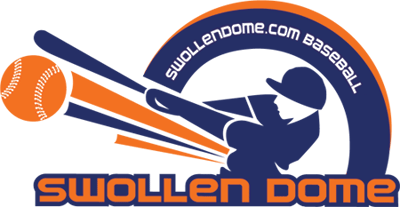 Harmon's Blog 7.12 runs through the world of fantasy baseball and Major League Baseball box scores. He knowingly nods to those who watched SharkNado and talks injuries and adult diapers. Yeah, Harmon's got a little bit for everyone.
Baltimore first baseman Chris Davis went 1-for-3 with his major league-leading 34th home run in Thursday's 3-1 win over Texas. Owners might be wise to put Davis' name on the trade block right now. While the power numbers are still solid (three home runs in his 10 July games), Davis is batting just .118 this month (4-for-34). Taken further, Davis has recorded a dismal .191 batting average (13-for-68) in his past 20 games with 29 strikeouts.
Seattle infielder Kyle Seager extended his hitting streak to 11 games with a two-hit game against the Red Sox. Seager hit his 14th home run of the season and drove in two runs in the loss.
Edwin Jackson of the Cubs earned his third consecutive win by pitching seven shutout innings against the Cardinals. Jackson allowed three hits and struck out five batters. He's allowed four earned runs in 18 2/3 inings pitched (1.93 ERA) during this three-game hot streak.
Rookie catcher Josh Phegley (Don't say I didn't warn you!) hit a grand slam in support of Chris Sale to pace Chicago's 6-3 win over the Tigers. Phegley went 1-for-5 in the victory with his third home run since his call-up. He's produced four hits in his 20 at-bats with eight RBI. By the way, Sale won his first game since May 17th by pitching seven innings with nine strikeouts.
Detroit superstar Miguel Cabrera hit his 30th home run of the season (94 RBI) in the loss.
Newly-minted All-Star Matt Moore (a replacement for injured Texas starter Yu Darvish) earned his fifth consecutive win on Thursday against the Twins. He allowed three earned runs over 7 1/3 innings with 10 strikeouts against two walks.
You watched "SharkNado." Admit it. I'm sure you'll be able to catch it again on SyFy this weekend.
Derek Jeter returned to the Yankees lineup against the Royals and got "Yankee Nation" excited with an infield hit. Jeter went 1-for-4 with a run scored and one RBI. He underwent an MRI after the game because of tightness in his quadriceps.
Yasiel Puig learned that he'd failed to make the All-Star team earlier on Thursday. He went 2-for-4 in the Dodgers' victory over the Rockies. Adrian Gonzalez, who was also on the "Final Ballot," went 2-for-5 with his 20th double of the year as he celebrated his bobblehead night. Puig left Thursday's game with what is being called a "sore left hip."
Carlos Gonzalez ripped his 25th home run of the season in the ninth inning off Brandon League to keep the Rockies from being shut out. Gonzalez went 3-for-4 in the game.
Atlanta first baseman Freddie Freeman staged a huge upset in that voting process to thwart the Puig campaign effort. Freeman celebrated by producing three hits and four RBI Thursday to make a winner out of Tim Hudson. Freeman is batting .312 with 60 RBI.
The Cardinals lost outfielder Matt Holliday to a strained hamstring as he ran out a groundball. Derrick Goold of The St. Louis Post-Dispatch quotes Holliday as calling it a "day-to-day" injury.
Fellow Post-Dispatch reporter Rick Hummel had an update on starter Chris Carpenter, who will begin a Double-A rehab assignment next week.
Toronto reliever Steve Delabar won the American League vote. Who is Steve Delabar, you might ask? He's a middle reliever with a 1.74 ERA and 59 strikeouts in 57 strikeouts in 41 1/3 innings pitched. You need more? Check out Richard Justice's piece from MLB.com on Delabar's history and interesting path to the midsummer classic.
According to this article from Adam Pasick of QZ.com, adult diapers are scheduled to outsell baby diapers in 2020. The growth in this sector is estimated to be 6-10% per year and 20% of the Japanese population is over 65 years old.
The proposal will still need to jump a few hoops before its end result is seen in Chicago, but it appears that the path is clearing for the arrival of a Jumbotron at Wrigley Field.
Finally, here's a quick interview conducted with Rob Gronkowski as part of his book tour.
Tags
Adult Diapers
,
Baltimore Orioles
,
Chris Carpenter
,
Chris Davis
,
Derek Jeter
,
Edwin Jackson
,
FOX
,
FOX Sports Radio
,
Gronk
,
Harmon
,
Harmon's Blog 7.12
,
Japan
,
Jumbotron
,
Kyle Seager
,
Matt Holliday
,
Miguel Cabrera
,
Mike Harmon
,
New England Patriots
,
Orioles
,
Puig
,
Rob Gronkowski
,
SharkNado
,
St. Louis Post-Dispatch
,
Swollen Dome
,
SwollenDome.com
,
SyFy
,
SyFy SharkNado
,
Wrigley Field
,
Yasiel Puig