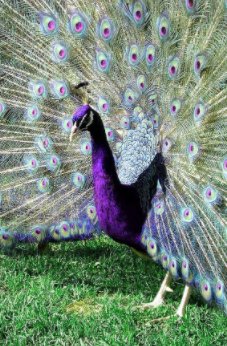 The sports world gave us myriad headlines to wrap our heads around on a Tuesday night.
James Harden of the Rockets recorded a ridiculous 60-point Triple Double.
The embattled Cavaliers lost Kevin Love for 6-8 weeks to a broken hand.
Alex Smith was traded to the Redskins, thereby opening up the Kirk Cousins sweepstakes.
And FOX will reportedly take on the Thursday Night Football package.
And then, there was this gem from the non-sports world that crossed my desk this afternoon.
Let it breathe for a minute.
A woman was denied the ability to board a plane with her EMOTIONAL PEACOCK.
That's right. She had a ticket for a peacock.
In December, I traveled for the holidays. As we began the boarding process, I noticed that there were a number of emotional support dogs readying for travel. I've always been curious about getting the documentation and approval for such a travel companion. The proliferation of airborne dogs set me to wondering about the legitimacy of many of the allowances.
You can make any number of claims to get a script for a script at the local dispensary. Does getting permission to bring a pet onboard run along the same lines?
Interestingly, my daughters and I had had this conversation just a week ago. The jokes included traveling with horses, snakes and baby elephants. I just hadn't thought about the local favorite (well, not for some in San Pedro) peacocks.
But it did make me smile and think of one of my favorite movie quotes of recent memory. I give you "The Other Guys" and Mark Wahlberg.