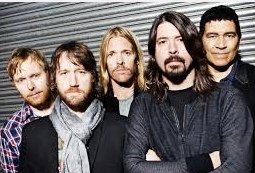 A friend of mine lamented his early holiday travel plans on Facebook earlier today.
The source of his angst was the release of Pre-Sale information for the 2015 Foo Fighters Tour. Unlike the usual chase to a "virtual waiting room," Foo Fighters are going old school for this tour. Sure, you'll be able to log on from your home office and buy tickets online next week.
But first, those ardent fans willing to stand online – in the old-fashioned sense – have their chance on Saturday. From 9am (local time) until 3pm (local time), fans will be able to line up at the ticket booths of their chosen venue to purchase tickets.
I made a good number of friends standing in line at record release parties and concert ticket sales during my college years. This press release took me back to those great memories and a string of fantastic shows. The "Sonic Highways" album and accompanying HBO series has taken music fans back to the roots. This "Beat The Bots" ticket policy does the same.
Make some new friends.
Check Out The Complete List Of Tour Dates Here