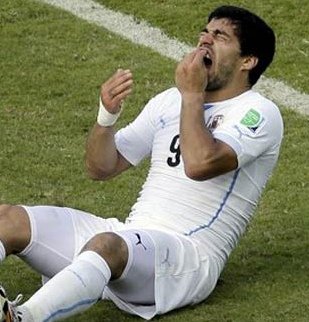 Amid a loud outcry from soccer supporters and journalists worldwide, FIFA is formally investigating Tuesday's incident involving Uruguay's Luis Suarez. Suarez bit the shoulder of Italian defender Giorgio Chiellini, the third such incident of his career.
According to the report at The Hollywood Reporter, a disciplinary committee will present its findings, including video evidence, to FIFA on Wednesday afternoon. The charge at the center of the case is that of "assaulting an opponent." If declared guilty, Suarez faces a lengthy suspension that ranges from two games to 24 months.
Remember, Suarez was the hero against England after returning from knee surgery, but his lapses in judgment are what set the Internet ablaze on Tuesday. And, to quote legendary rockers Pink Floyd from The Wall:
"The evidence before the court is incontrovertible …
There's no need for the jury to retire.
In all my years of judging, I have never seen before
Someone more deserving the full penalty of law."
FIFA asked the team to present evidence, which can include video recordings, by 5 p.m. local time (2000 GMT) Wednesday. The conclusion of the hearing should be swift, though the extent of the penalty remains in question. It's an important case for the organizing body, which has been under fire for myriad issues related to this year's tournament.
Check out the Suarez Biting Vine.
Chiellini talked of FIFA's desire to protect its stars in his post-match comments. Suarez tried to dismiss the activity as "part of the game." And Uruguay's coach, Óscar Tabárez, trivialized the issue: "This is a World Cup. This is not about cheap morality."
I don't suspect that FIFA lays out a full two-year suspension, but banning Suarez for the duration of this tournament for his multiple offenses seems a logical conclusion. Of course, one questions whether FIFA views this as a standalone issue in its investigation.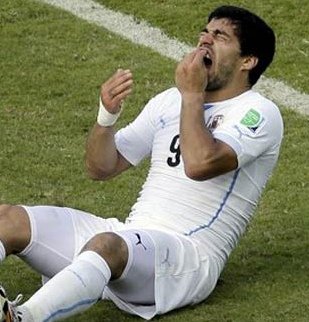 Ready the full story here.