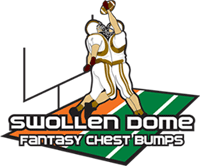 QBs
1. RG III – How can I look past his dominance? He posted 320 passing yards, including the 88-yard catch and sprint (YAC!!!!) from Pierre Garcon, with two touchdowns and 42 rushing yards.
2. Matt Ryan – He positively crushed it against the Falcons. Expectations were sky-high for the Atlanta offense, and Ryan delivered in a huge road test, taking full advantage of the injury/suspension-depleted Kansas City defense. Ryan passed for 299 yards and three touchdowns (two to Julio Jones in monster mode) and gave you your bonus with a touchdown sprint (25 rushing yards).
3. Mark Sanchez – I tossed him out as a NINJA for this week, even though I've talked openly of loving the Wannstedt-led defense. Of course, Mario Williams is talking about holding in the aftermath. But, lock it down. Sanchez passed for 266 yards with three touchdowns and one interception.