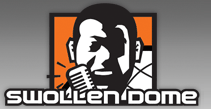 Anyone who has perused the pages of SwollenDome.com or listening to me ranting on the radio or podcasts knows my affinity for the business side of everything I watch. I love watching dollars move in sports and entertainment, from ticketing to merchandise to the super-sized TV rates charged to the networks.
One of the shows locked and loaded on my DVR since its inception has been "Shark Tank." I love watching the shop owners, entrepreneurs and inventors roll up their wares and pitch them to the panel. The New York Times published a piece that gave a glimpse behind the scenes of the workings of the show and its impact on the profiled businesses. They talk to the owners of "VerbalizeIt" and their experience with Kevin O'Leary.
Are you willing to give them a taste of your big idea?