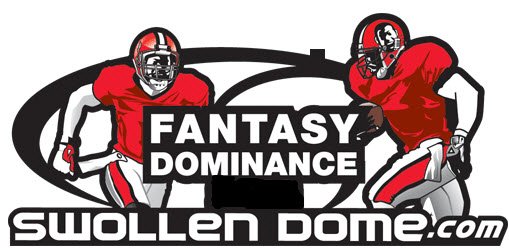 Early on Monday, I offered fantasy owners the opportunity for a rare interactive experience. No, we take plenty of calls, texts and Tweets throughout the week and on the Sunday morning FOX Sports Radio show. I posted the link to the "Fighting Chance Fantasy Mock Draft" in which I was scheduled to participate.
The invite came from Fighting Chance Fantasy to jump into a draft that would encapsulate the thoughts, instincts and leanings of 12 pundits as training camps opened. How could you not get excited? I do believe that the "Geraldo Challenge" (post the shirtless pic) went without a response.
Here's the full lineup of participants from the draft. Give their content a spin and open your minds to divergent opinions. I'm sure we'll be sparring throughout the season.
KFFL.com
FootballDiehards.com
FFToolbox.com
USA Today
Fantasy Football Confidential
FantasyJudgment.com
FantasyAlarm.com
AllProLeagues.com
BrunoBoys.net
LeagueSafe.com
And, of course, Fighting Chance Fantasy fielded a squad.
I drafted out of the nine-hole and received a pleasant surprise in that slot. Let's go through the caffeine-infused thought process for each of my picks. I'm not getting deep. I'm merely offering a quick look inside the Dome. You can view each team's roster on MyFantasyLeague.com. We thank MyFantasyLeague.com for hosting us.
Let's get into dissecting the squad.
———————————————————-
Round 1, Pick 9: Arian Foster, RB, HOU
Analysis: I received a gift in the ninth slot of the first round with Foster still on the board. I am moderately concerned about injuries and the dip in his receiving numbers last year, but it's hard to dismiss Foster's continued strong production overall. He produced a double-digit point total in all but one game last season, including 11 games with at least 15 points scored (median 16.5 PPG).
Round 2, Pick 4: Brandon Marshall, WR, CHI
Analysis: I had to stay true to the list. Marshall's No. 2 on my board, thereby putting him into this draft slot. I'm intrigued to see the up-tempo Marc Trestman offense at work as Jay Cutler operates behind a better offensive line (Bushrod's injury forces me to raise an eyebrow). Marshall logged at least 90 receiving yards in nine games last season and will benefit from the arrival of Martellus Bennett and improvement from Alshon Jeffery.
Round 3, Pick 9: Victor Cruz, WR, NYG
Analysis: I hit the "Draft" button and stared at the screen for a moment. Should I have drafted Wes Welker and taken a ride on the Peyton Manning lovefest in Denver? Or Andre Johnson? Nah. I went for the high-flying Cruz. And, it's a roller coaster ride, given the highs and lows of his weekly performance. Cruz finished 10 games with fewer than 60 receiving yards, though he did score a total of six touchdowns in those games (three in one game against Cleveland).
Round 4, Pick 4: Giovani Bernard, RB, CIN
Analysis: Bernard will cede carries, and probably more than a few goal-line touches, to "The Law Firm." Still, I like his potential to post 15-18 touches per game and to be active in the passing game. And, let's fact it. Go back and look at the board. I needed a lead back with an extensive injury history in this spot.
Round 5, Pick 9: Mike Wallace, WR, MIA
Analysis: Early reports from Miami lamented the lack of a connection between Wallace and Ryan Tannehill. It's early. Wallace has always been tabbed solely as a "deep threat," but this is a player who caught 136 passes in the past two years. There are concerns about his concentration lapses and drops, to be sure. However, I loved him here as a No. 3 receiver. Ironically, my decision came down to Wallace and his former teammate Antonio Brown. Brown was the next player off the board.
Round 6, Pick 4: Tom Brady, QB, NE
Analysis: I'm not scared. Brady lost Aaron Hernandez and certainly Rob Gronkowski's health remains a mystery. Brady remains. Danny Amendola joins the fold to replace Wes Welker. Julian Edelman remains in the fold, and I expect to see significant contributions from Aaron Dobson (see him later) and Shane Vereen out of the backfield. Additionally, Jake Ballard intrigues me as a potential bounce-back option.
Round 7, Pick 9: DeAngelo Williams, RB, CAR
Analysis: Williams put up solid numbers down the stretch when given consistent touches, providing owners with 17 and 18 points in standard leagues during the playoffs (4.8 points in Week 16). His big-play potential remains, and things are looking up for the Panthers. With backfield mate Jonathan Stewart ailing to start the preseason, Williams should see a significant share of the workload out of the gate.
Round 8, Pick 4: Mike Williams, WR, TB
Analysis: Williams earned himself a huge contract extension after producing a huge bounce-back season in 2012. He narrowly missed notching the first 1,000-yard season of his career with nine touchdowns. The retooled and healthy offensive line and running back with Doug Martin should provide Josh Freeman an opportunity to play more consistently.
I do not know why Williams has been touching the punt team.
Round 9, Pick 9: Greg Olsen, TE, CAR
Analysis: I needed a superhero on the squad. Olsen's resemblance to "Thor" prompted his selection here. OK, it's really just a nice thing to toss up after the fact and probably got you thinking about your favorite superhero movies (Top-5, GO!). Olsen was targeted 104 times last season, producing career-highs in receptions (69) and yards (843).
Round 10, Pick 4: Aaron Dobson, WR, NE
Analysis: Big hands. Dobson made one of the best catches you'll ever see last year against ECU. I'll add it to this piece again. He's been running with the first time in Patriots camp already, and I expect him to challenge for a big target count opposite Danny Amendola. Dobson has the length, size and body control to make plays. I was happy to see him still on the board in Round 10.
Round 11, Pick 9: Philip Rivers, QB, SD
Analysis: Can Rivers bounce back under Ken Whisenhunt? Rivers welcomes Vincent Brown back from injury alongside Danario Alexander, Malcom Floyd and Antonio Gates. He saw his streak of 4,000-yard seasons snapped at four, as injuries and spotty decision-making limited his production. Rivers still threw 26 touchdown passes, a total that tied him for ninth among all NFL quarterbacks.
Round 12, Pick 4: Jacquizz Rodgers, RB, ATL
Analysis: Will the innumerable weary miles logged by Steven Jackson finally take their toll? Jackson's obviously the workhorse, but Rodgers will continue to be active in the passing game. He saw 64 targets last season, hauling in 55 receptions for 402 yards (362 rushing). I broke another's handcuff and took a shot that Rodgers would see significant action during stretches of the season.
Round 13, Pick 9: Cincinnati Bengals Defense
Analysis: The Bengals ranked eighth in scoring defense last season, allowing just 20 points per game. Cincinnati racked up 51 sacks (third in the NFL) and generated 30 turnovers. Add James Harrison to bolster the linebacking unit alongside 2012 hero Vontaze Burfict and you've got an interesting fantasy option. Plus you get the benefit of "Hard Knocks" coverage.
Round 14, Pick 4: Owen Daniels, TE, HOU
Analysis: I was surprised to see Daniels still on the board at this juncture. He established a career-high touchdown total (six) last year while hauling in 62 passes (his highest total since 2008). Daniels also logged a career-high 104 targets.
Round 15, Pick 9: Latavius Murray, RB, OAK
Analysis: I made this pick for my last non-kicker slot with thoughts of Darren McFadden's injury history. Murray ran a sub-4.40 40-yard dash at Central Florida's Pro Day. Murray's a powerhouse at 6-foot-3 and 230 pounds and fits the running scheme well. Will he be the next man up and see significant time? Perhaps not, but this is a lottery ticket pick in Round 15.
Round 16, Pick 4: Garrett Hartley, K, NO
Analysis: I'll take the kicker behind Drew Brees' offense with Sean Payton back in the mix. I don't need to say much more.
Tags
Aaron Dobson
,
Allie Fontana
,
AllProLeagues.com
,
Arian Foster
,
Bears
,
Bengals
,
Bob Harris
,
Brady
,
Brandon Marshall
,
Bruno Boys
,
Cincinnati Bengals
,
DeAngelo Williams
,
Ernie Estrella
,
Fantasy Football
,
Fantasy Football Confidential
,
Fantasy Judgment
,
FF Toolbox
,
Fighting Chance Fantasy
,
Football Diehards
,
Garrett Hartley
,
Giovani Bernard
,
Greg Olsen
,
Harmon
,
Howard Bender
,
Jacquizz Rodgers
,
KFFL
,
Latavius Murray
,
League Safe
,
Mike Harmon
,
Mike Wallace
,
Mike Williams
,
Nick Minnix
,
Owen Daniels
,
Patriots
,
Philip Rivers
,
Robert January
,
Ryan Boser
,
Ryan Hallam
,
Scott Atkins
,
Steve Gardner
,
Swollen Dome
,
SwollenDome.com
,
Texans
,
Tom Brady
,
USA Today
,
Victor Cruz