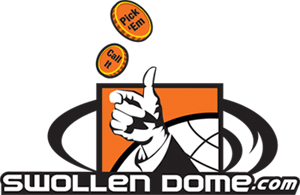 It's that time again.
Last week, I went 10-6 Straight Up and 7-9 ATS. Alas, the sub-.500 mark dropped me to 23-25 for the season.
Don't forget – Carolina and Green Bay are off the board this week. It's the first run into the annual Bye grind.
I called the Rams-49ers game miserably. Bowman had a monster night and San Francisco astutely decided to run the ball!
Matchup Straight Up ATS
SF (-3 1/2) at STL STL STL
DAL (-1 1/2) at SD DAL DAL
WAS at OAK (N/A) OAK OAK
PIT (-1 1/2) at MIN PIT PIT
CIN (-4 1/2) at CLE CIN CLE
SEA (-2 1/2) at HOU SEA SEA
NE at ATL (-3) NE NE
PHI at DEN (-10 1/2) DEN DEN
ARI at TB (-2 1/2) ARI ARI
IND (-9 1/2) at JAX IND IND
CHI at DET (-2 1/2) CHI CHI
NYJ at TEN (-4 1/2) NYJ NYJ
BAL (-3 1/2) at BUF BAL BUF
NYG at KC (-4 1/2) NYG NYG
MIA at NO (-6 1/2) NO NO
Tags
49ers
,
ATS
,
Brady
,
Harmon
,
Harmon's Week 4 Picks
,
Mike Harmon
,
Patriots
,
Rams
,
Swollen Dome
,
SwollenDome.com
,
Week 4 ATS