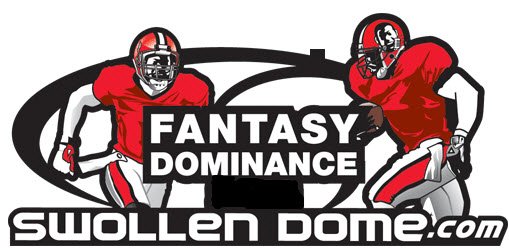 The long, arduous road to Super Bowl XLVIII (48) is winding toward a dramatic finish. This weekend, NFL fans and fantasy owners will celebrate AFC and NFC Championship Games. The storylines are everywhere, from the battle for legacy in the AFC between Peyton Manning and Tom Brady to the rise of a heated NFC West rivalry. Young guns Russell Wilson and Colin Kaepernick square off in the nightcap.
Seattle's dominated the most recent dates at home in the series, but Vernon Davis and Michael Crabtree are back and ready to roll. Which defense makes a big play?
I went on record before the season to predict a Seattle-New England Super Bowl in the snow. But, how will the fantasy numbers shake out on Sunday? Here's my squad in the Fair Market Fantasy Salary Cap Game.
Let's break down the roster.
I'm predicting a huge afternoon for Tom Brady against the injury-depleted Denver secondary. Harris and Miller are out. Bailey is banged up. The Denver pass rush has been sporadic. Ergo, I'm anticipating Brady moving away from the running attack that has been so celebrated this past week ("Blount Force Trauma," anyone?) and stretch things out in the passing game.
Marshawn Lynch ran wild in the divisional round over Rob Ryan's surprising New Orleans defense. Lynch is a key component of this Seattle offense, and Nevada has set the line at 120 rushing yards for this week. Carry an umbrella to shield yourself from Skittles.
Stevan Ridley scored twice in the Divisional round against the Colts. LeGarrette Blount is getting the headlines, but keep an eye out for Ridley (and Shane Vereen) in the secondary role. His fumbling issues are well-documented, but Brady's early success downfield is Ridley's gain.
Doug Baldwin needs to pick up the slack for the struggling Seattle passing game. Wilson is trying to find a go-to receiver, and Percy Harvin's quick exit (concussion) puts Baldwin back on the radar as a No. 1 option.
I expect the Patriots to put up points, as noted above. As such, I'll take advantage of the PPR component of this contest by snagging Danny Amendola. His seven-catch, 70-yard day is gold here.
The Patriots will try to slow former New England star Wes Welker. In doing so, look for Manning to work downfield to Eric Decker. The Broncos aren't getting shut down in the winter sun, and I expect to see Decker active early and often.
I chose the New England Defense. It's a Salary Cap Game, and I couldn't justify the exorbitant prices of the Seahawks and 49ers without sacrificing the offensive core of the team.
Steven Hauschka will be a pivotal component of my predicted Seattle win. I debated going with Phil Dawson, but the predicted Seattle win necessitated Hauschka's inclusion herein.
Vernon Davis makes the cut at tight end. Though I am nervous about running up against Seattle secondary, I couldn't afford Julius Thomas. Also, I love the potential of Zach Miller this week, but I can't get cute.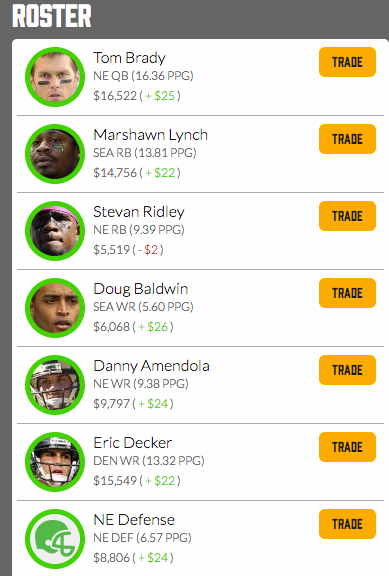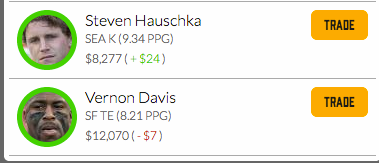 ---
You can play against me and try to beat this dominant squad at FairMarketFantasy.com.
Tags
49ers
,
AFC Championship Game
,
Broncos
,
Colin Kaepernick
,
Danny Amendola
,
Doug Baldwin
,
Eric Decker
,
Fair Market Fantasy
,
Fair Market Fantasy Team
,
Harmon
,
Harmon's Fair Market Fantasy Squad Championship Week
,
Marshawn Lynch
,
Mike Harmon
,
New England
,
NFC Championship Game
,
Patriots
,
Percy Harvin
,
Peyton Manning
,
Russell Wilson
,
Seahawks
,
Seattle
,
Skittles
,
Stevan Ridley
,
Steven Hauschka
,
Swollen Dome
,
SwollenDome.com
,
Tom Brady
,
Vernon Davis