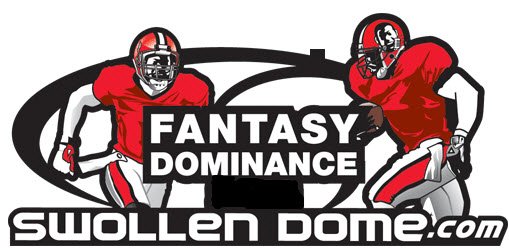 It's time to rack it up again with another Fair Market Fantasy contest.
I had great success in the Wild Card round and won my 10-team contest, getting tremendous value from T.Y. Hilton and Donald Brown in the Colts' ridiculous comeback victory over the Chiefs. Ladarius Green makes a repeat appearance in my TE slot. He keeps growing in the passing game, and Ken Whisenhunt's two-TE sets have been mighty intriguing.
This week, I'm pulling out the big guns and starting with Peyton Manning against the Chargers. With an extra week of work and Wes Welker's return to the field (he's on my squad, pictured below), Manning is sure to carve up the San Diego secondary. Remember, Manning and the Broncos were limited in their on-field action in that much-hyped Thursday win by the Chargers that introduced America to Philip Rivers' legendary bolo ties.
I then doubled up on the New England backfield with LeGarrette Blount and Shane Vereen. With the PPR element in place (see Welker above), I'm expecting a heavy workload for Vereen, and Blount has been a bruiser down the stretch. Pound the rock and send the Colts home.
Graham Gano is my kicker for what should be a low-scoring, grinder of game in Carolina. I don't anticipate a high-scoring game here,and a battle between Phil Dawson and Gano may break out.
Doug Baldwin benefits from the return of Percy Harvin against the Saints. Even if Harvin is limited in his reps, look for Marshawn Lynch to be established early and for Russell Wilson to get his shots downfield.
Finally, I returned to New England for Wes Welker's replacement and the Patriots defense. Danny Amendola is PPR gold for the Patriots in this format. I'm stacking all of my chips and going all-in that Bill Belichick is able to frustrate Andrew Luck, force turnovers and set up Tom Brady for a huge day.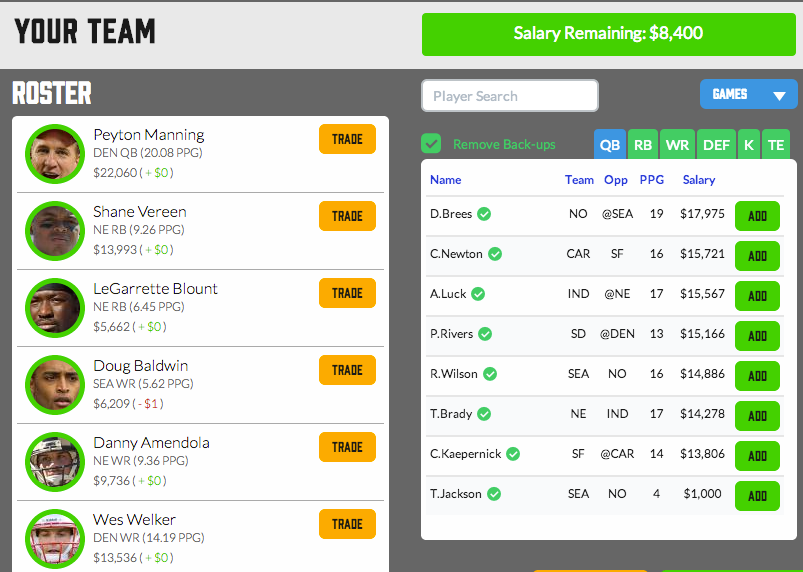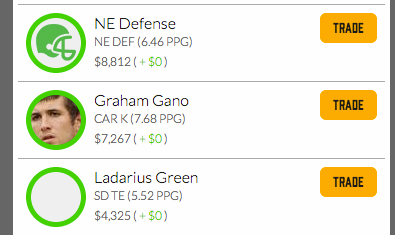 ————————-
Play again me or create your own squad or competition at FairMarketFantasy.
————
PLAYOFFS AT FAIR MARKET FANTASY
Top 5 reasons Playoffs at Fair Market Fantasy are the best:
• You can choose a lineup for the whole playoffs.
• Player prices are set by market demand.
• You can trade players back to market at any time.
• You get $20k in reinforcements (additional salary cap) after first rounds.
• Winning team player prices will rise, players on losing teams prices will
drop, and owners will need to manage their lineup under the available
salary cap to win.
• If you missed the initial All Playoffs Lineup in early Jan, you can still play
contests for individual post-season games.
This post has been sponsored by Fair Market Fantasy. All opinions are my own.