After a day of shaking hands and flapping gums at the media center, it's always good to pause and get a taste of the true flavor of Super Bowl week. I spent each afternoon driving around the city of New Orleans, checking out the classic architectural structures, the neighborhoods and talking to the locals. At night, it was time to "Suit up," as Barney Stinson (Neil Patrick Harris was in town, of course) and head out to see the greats without a microphone.
I had the opportunity to hit up Eiffel Society and a bash hosted by "The Playmaker," Michael Irvin and produced by Stephanie Jones. As you see from the invite and, as you'd expect at an event hosted by the Hall of Famer, proper attire was required. So, I found what I believed to be the best suit in the wardrobe and a popping tie. If you're going to talk to Michael Irvin, you best represent.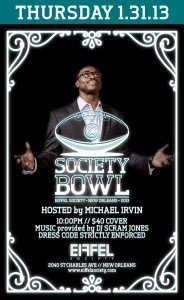 Attendees walked a long runway up to the club and were met by the pulse of a DJ and a spacious dance area. Football stars circulated and enjoyed the beats before departing into the New Orleans night. I had the opportunity to chat up our host for the evening, talking up Super Bowl memories, Ray Lewis, the workman attitude of the 49ers and style.
That's right. I got a style nod from Michael Irvin, and several people asked for my tie. Let's take a listen.
Harmon Talks To HOF Michael Irvin in NO