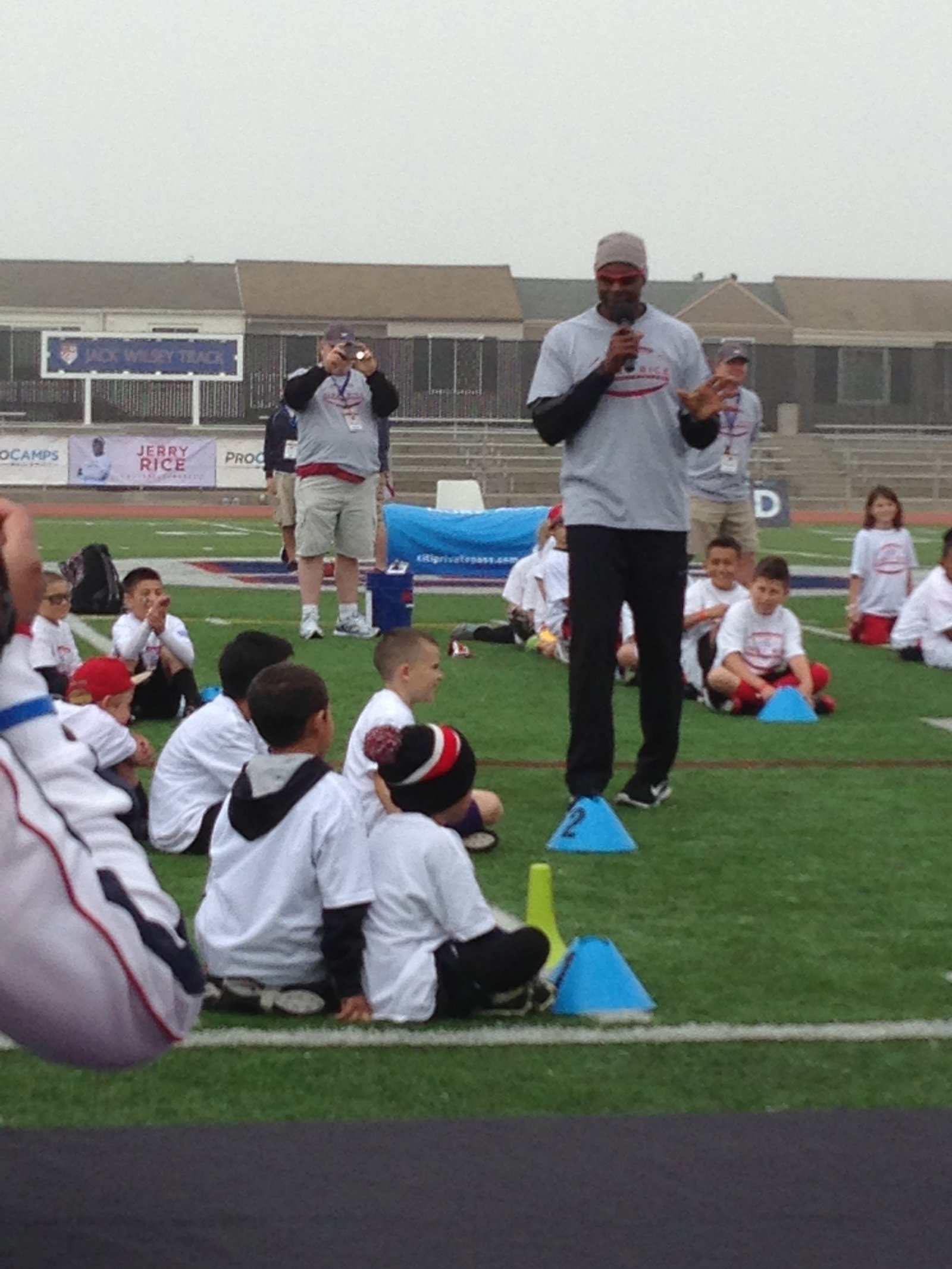 I had the great fortune to spend a few minutes with Hall of Famer Jerry Rice during Super Bowl week in New York/New Jersey. He told me tales of his Super Bowl prep work, sleepless nights in anticipation of a scoring opportunity and broke down the goods for the Denver-Seattle game. Rice's appearance on Radio Row was made on behalf of Citi Private Pass and ProCamps.com. At the end of our time, I was invited to visit the camp in San Francisco and watch the instruction and interaction.
The camp date was entered into my calendar, and I returned from my Super Bowl run to immerse myself into NBA, college basketball, NHL and spring training MLB coverage. Along the way, I stumbled into the Esquire Network series "Friday Night Tykes." The controversial, fascinating and, at times, gut-wrenching look into Texas youth football made me think back to my earliest days of involvement with the sport in the third grade. It all came rushing back – the repetitive drills, the extra laps run around the field following penalty or mistake-laden reps, making big blocks or tackles and the yelling. Sometimes, the yelling was encouraging and sometimes … not so much.
Either way, my love for the game and hatred of Brillo pads (scrubbing war marks from the helmet) started on those fields, and I was eager to go back to the beginning. So, I loaded up the caffeine and made the trek from Los Angeles to San Francisco to attend the camp at St. Ignatius College Preparatory – San Francisco this past weekend. Interestingly, perhaps only to me, is that I graduated from SICP – Chicago, so I felt that there was a slight "homecoming" feeling as I arrived at the campus.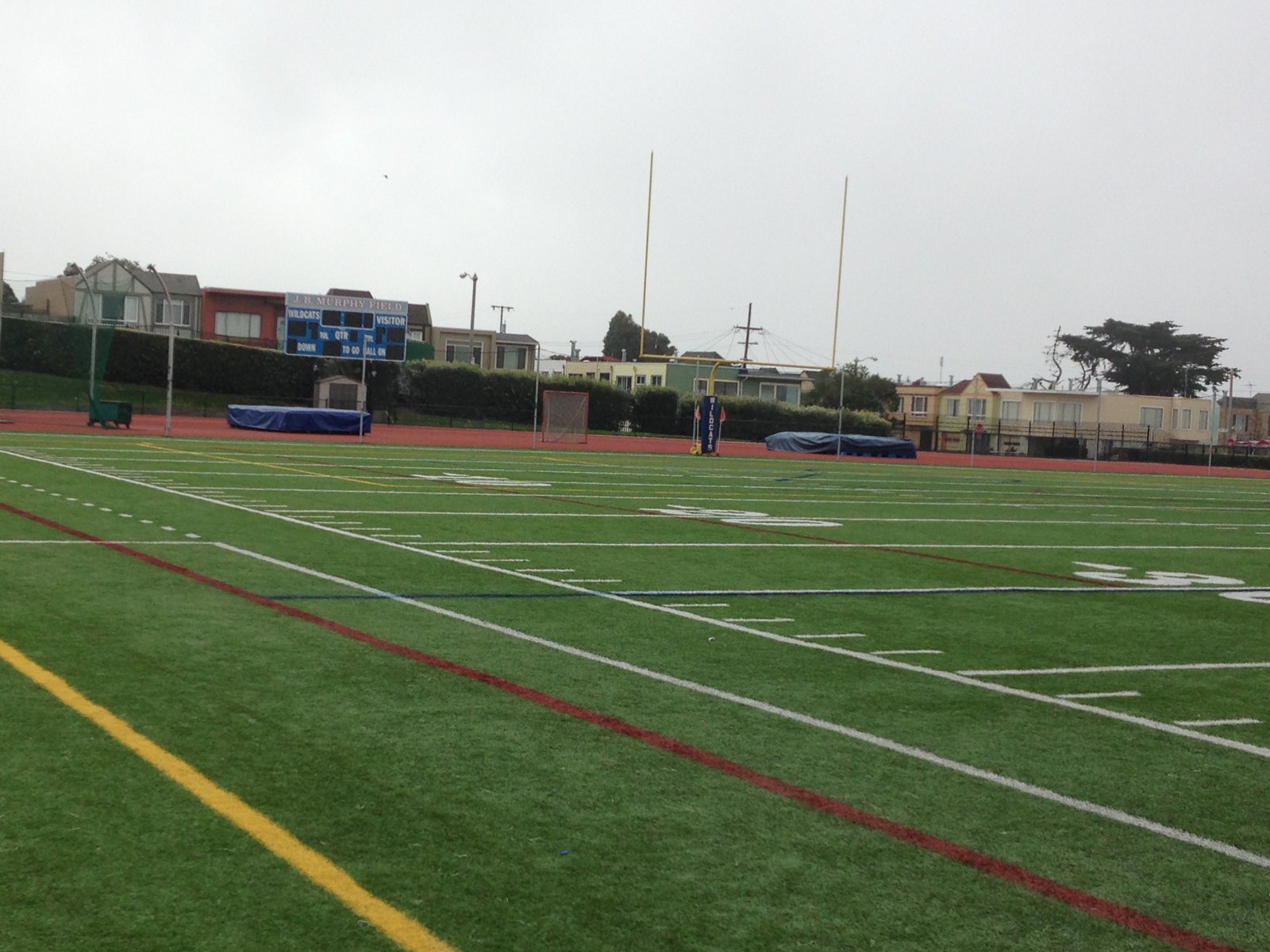 The coaches for the day included members of the St. Ignatius staff, area coaches and several of their high school players. By the time I arrived, the campers had been divided into different age groups and were being put through the paces of the day's first segment.
The young quarterbacks, ranging from first grade through eighth, were doing rollouts and throwing across the middle. I smiled as I watched the smaller participants attempt to palm the football and complete throws. The eighth graders were careful about their footwork and delivery while trying to impress the staff. The coaches walked through the drills with each group, feigned pass rushes and offered words of support while joking with the participants.
The mission statement of the camp was reinforced by Jerry Rice and the coaching staff throughout the day: Sportsmanship, confidence, effort, fun and teamwork.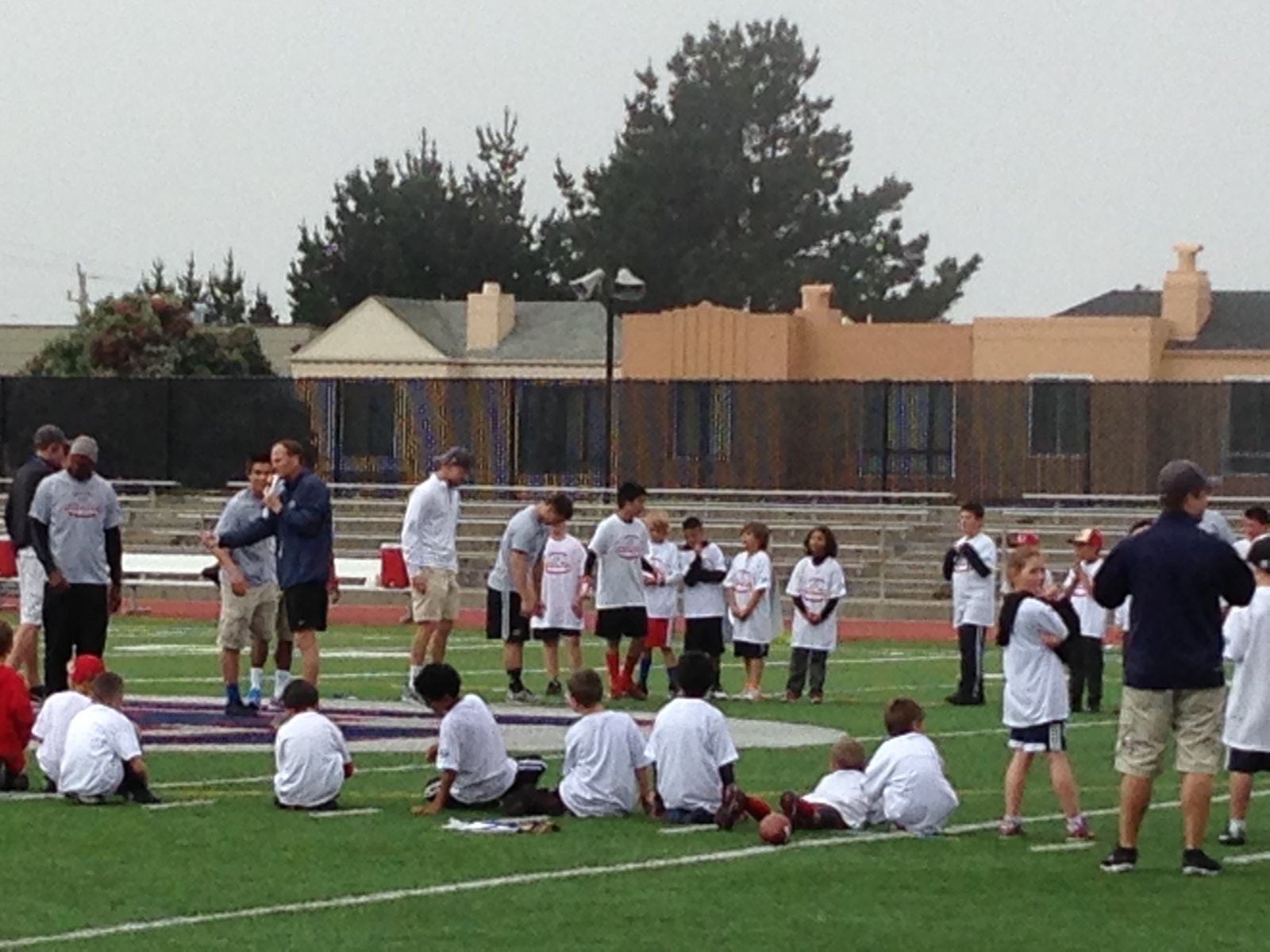 It was clear from the first moment that I laid eyes on the field that the campers were having a blast and working hard to execute the plays they'd been given to practice. Sure, they were playing football and meeting a legend. But think about the fact that the campers didn't travel in groups. Many came into the day knowing just one other person or perhaps a few others. They got comfortable with the concepts, the coaches and each others quickly.
I have spoken/written frequently about the bonding element of sports. This was no more evident than in the quick communication and flow/camaraderie that developed across the age groups. In fact, the ability of one camper to retain the names of his teammates was tested as camp closed. His recall was far superior to my own in similar circumstances.
The campers received a pep talk from Jerry Rice following the first round of drills, took their team pictures and then hit the field to play games. Before they knew it, Rice was mixing into the games as a quarterback and coach. He was high-fiving and celebrating each big play while offering tips along the way.
During the media session, Rice told of how one camper asked if he could pinch him. Rice laughed at that, talking about growing up in Mississippi and always wanting that opportunity to interact with his idols. The smile on his face as Rice recounted that story told how much he appreciated that moment.
I had a chance to toss out a couple questions during the media session.
Harmon: "What's the first thing you want to impart on the campers?"
JR: "Just that – No Quit – attitude. Hustle. And if you're tired, you need to finish. It's a team concept. So, once you score a touchdown, know that it's something special and to celebrate with your teammates."
During Rice's initial interaction with the campers, he invited a volunteer to play the part of Richard Sherman in a run-through. Of course, the ball was woefully under-thrown by the quarterback and intercepted by the camper. He rightfully blamed his quarterback.
Throwing back to that interaction and the eagerness of campers to play that role, I asked about the shift in attention to defensive backs in today's NFL.
JR: "You know. It all boils down to team chemistry and working together. It's not an individual sport, and if you work together, you have the chance to do something special. The knuckleheads today, I don't know what to say about that."
Harmon: "You wouldn't be engaging in Twitter wars?"
JR: (Laughs) "You let your actions speak on the field. I was never a trash-talker. I just went out and did my job."
---
At the end of camp, participants lined up for races for each age group before the Finals were held. I felt like I should have been timing them with a stopwatch.
Everyone assembled for Awards and a parting message from Coach Rice. But before they finished, campers had their opportunity to assume the role of reporter and pick Jerry Rice's brain.
Here's a sampling of the Q & A session.
Q: "What did you need to learn at the start his career"
JR: "When I first came to the San Francisco 49ers, I could not run an out route. In an out route, they don't want you to go down and plant like this and run out. They want you to roll the out. Just like doing a dance. They want you to roll it … like this (for emphasis). Dwight Clark told me how to run this route. I just wanted to go into the NFL and give it 100% … give it my best shot.
Q: "Why did you choose football?"
JR: "That's a good one. Guys, this is how … and I don't want any of you guys to do this. You're not supposed to play hooky. I was at the back of this building and the principal walked up behind me and scared me, and he noticed I could run real fast. That's how I started playing. I went out gave it a try, and that's it."
Q: "Niners or Raiders?"
JR: "OK, guys. I have been asked this over and over again. My legacy is with the San Francisco 49ers."
"But then I had an opportunity to play with Tim Brown and Rich Gannon. When I put that uniform on, I thought – I look good in this silver & black – but my legacy is with the 49ers."
Q: "What did you do to get to the top?"
JR: "I just out-worked everyone else. I was not the most talented, but I felt if I went out and I worked hard, then I had a chance. And to come into a great organization like the 49ers where you had great players, it was like – Where do I fit in?. I remember the first pass I caught from Joe Montana. I sprinted like 80 yards for a touchdown. They thought I was crazy, but I was conditioning myself to out-work everyone. I never a day off. I never took a play off during a game … I never got complacent.
And I think that that's why I have 22,895 yards, 1,549 receptions and 208 touchdowns, and I went to the Pro Bowl 13 times. Put the work in and it'll pay off for you."
That's certainly some summary statement.
There were prizes awarded in the form of autographed jerseys and swag to several players and coaches and another for a social media element among the parents and fans in attendance. Each player went home with a swag bag, a team photo, a camp T-shirt, a Jerry Rice autograph and some inspiration.
---
Check out the ProCamps.com site for information on upcoming camps around the country, including Colin Kaepernick, Larry Fitzgerald, Rob Gronkowski and Mike Richter.
Here's a quick example of the ProCamps experience featuring San Francisco 49ers quarterback Colin Kaepernick.
The Citi Private Pass program rewards members with access to special events and pre-sale opportunities. You can find a list of events at the Citi Private Pass site.
Tags
Citi PrivatePass
,
Citibank
,
CitiCards
,
Esquire
,
Esquire Network
,
Friday Night Tykes
,
Harmon
,
Jerry Rice
,
Mike Harmon
,
New Jersey
,
New York
,
New York/New Jersey
,
ProCamps
,
ProCamps.com
,
Rice
,
SICP
,
SICP San Francisco
,
St. Ignatius College Prep
,
St. Ignatius College Prep San Francisco
,
St. Ignatius San Francisco
,
Super Bowl
,
Super Bowl XLVIII
,
Swollen Dome
,
SwollenDome.com