You know that I love the investing angle of every conversation and following the flow of cash. Well, the early odds are in for the big chair at "Late Night" at CBS, one day after David Letterman announced his departure. Letterman said that his last show would occur sometime during 2015.
Of course, the speculative nature of the blogosphere already has a litany of would-be successors lined up. Stephen Colbert, whose contract at Comedy Central expires in short order, is the early frontrunner. Conan O'Brien is on the short list, as is frequent Letterman guest Jerry Seinfeld.
What do you think?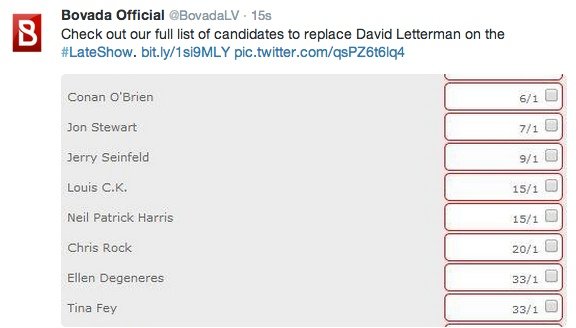 Tags
Bovada
,
Bovada.LV
,
CBS
,
Chelsea Handler
,
Chris Rock
,
Conan O'Brien
,
Craig Ferguson
,
David Letterman
,
Ellen DeGeneres
,
Harmon
,
Jay Leno
,
Jerry Seinfeld
,
John Oliver
,
Jon Stewart
,
Late Night With David Letterman
,
Louis C.K.
,
Neil Patrick Harris
,
Seinfeld
,
Stephen Colbert
,
Swollen Dome
,
SwollenDome.com
,
Tina Fey