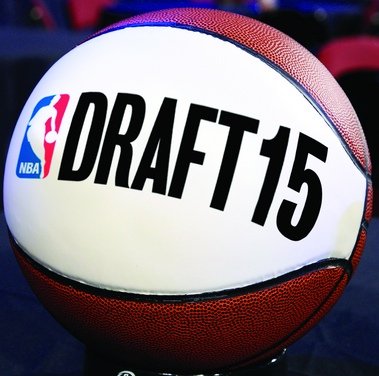 On Thursday night, the NBA welcomed its latest draft class. After months of speculation, the top pick went down without incident. The Minnesota Timberwolves selected Karl-Anthony Towns from Kentucky, the first of a long parade of John Calipari disciples. Calipari had six players selected overall, including four in the lottery.
I digress. Calipari was one of the brightest stars during Thursday's coverage, and his interview that was broadcast during the NBA Draft warrants further consideration at another time.
The Lakers then threw the mock draft world a curveball by selecting D'Angelo Russell out of Ohio State. Jahlil Okafor was added to the 76ers' run of big men (they'd add another another later) before the Knicks drafted Kristaps Porzingis. Again, it's another point of debate and contention.
We will debate the merits of draft choices and fits as the bell rings for free agency.
In the interim, there was a consistent theme during the 2015 NBA Draft. Adrian Wojnarowski of Yahoo! Sports and FOX Sports 1, working with our coverage on FOX Sports Radio, knew and reported picks well in advance of Adam Silver's announcements on the televised broadcast. As he decompressed, if only momentarily, from the barrage of Twitter messages, radio and television appearances, blog posts and the like, Wojnarowski joined us on "The Jason Smith Show" at FOX Sports Radio.
We learned one very important lesson during this interview, something we had suspected all along.
Click the link above to hear Woj's response to a debate about "Pick-Tipping," an art that drew great scrutiny during the NFL Draft.
During Thursday's NBA Draft, I watched as high-profile members of the media whined and complained about Woj's Twitter work. I backed Woj's efforts and dissemination of information during the proceedings.

And when asked during our interview about his work, Woj wasn't hearing it.
Tags
2015 NBA Draft
,
Adam Silver
,
Adrian Wojnarowski
,
Calipari
,
D'Angelo Russell
,
ESPN
,
ESPN Draft 2015
,
FOX Sports 1
,
FOX Sports Radio
,
FSR
,
Harmon
,
Jahlil Okafor
,
Jason Smith
,
John Calipari
,
Karl-Anthony Towns
,
Kentucky Wildcats
,
Knicks
,
Kobe Bryant
,
Kristaps Porzingis
,
Lakers
,
Los Angeles Lakers
,
Mike Harmon
,
NBA Draft
,
NFL Draft
,
Pick-Tipping
,
Porzingis
,
The Jason Smith Show
,
Timberwolves
,
Towns
,
University of Kentucky
,
Woj
,
Yahoo!
,
Yahoo! Sports