You could almost hear the record needle scratch. '
On Sunday morning's edition of "The FOX Fantasy Freaks" radio show, I introduced the topic of Tim Tebow's forthcoming appearance at the First Baptist Church of Dallas, a mega-church run by the controversial Dr. Robert Jeffress. At the time I raised the topic, I questioned the thought process of by Tebow's camp. Historically, the team assembled by Tebow has been very careful about protecting his image and his message. He has spoken about acceptance and peace, "sharing a message of hope and Christ's unconditional love (see the series of Tweets below)," and has been a divisive figure in the sports world because he wears his convictions on his sleeve, including the "Tebowing" phenomenon.
As such, the alignment with Dr. Jeffress' congregation, if only for the purpose of preaching to a wide audience, sent the wrong message, a tacit endorsement of Jeffress' controversial stances on homosexuals and members of other faiths. If the program was set up as a theological debate, then the media and Tebow's critics would need to stand back and look at the game tape from the event. Framed as merely an appearance and speaking engagement, it opened the quarterback up to many new questions and assumptions about his beliefs and tore at the public's perception of him.
To give the story more texture, you can read/hear more from Dr. Jeffress in the Pathway to Victory podcasts.
The controversial and, at times, hateful speech of Dr. Jeffress, was chronicled in the article put forth by Gregg Doyel on CBSSports.com this past Monday. Doyel discussed the battle of public opinion over Tebow while elaborating on the messaging coming from Dr. Jeffress and the First Baptist Church of Dallas. You can read the full article here.
On Thursday morning, Tebow released a series of Tweets to announce the cancellation of the appearance (see below). I'm curious about the "new information that has been brought to my attention" comment in his Twitter run this morning. It seems to me that initial discussions about an appearance would have prompted at least a cursory search for Dr. Jeffress' main precepts or a glance at a Wikipedia page. Sometimes there's a "Recent Controversy" box (as there is on the First Baptist Church of Dallas page), so you don't even need to delve into a second level of discovery.
The questions about the decision-making process within the Tebow camp and the negative publicity hit will remain, without a double. However, the attention of most media members will circle back to Tebow's effort to make an NFL roster in 2013. Some reports have hit the wire discussing attempts by the Jets to shop Tebow at this week's NFL Combine.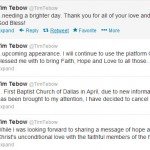 I'm sure that there will be some Tebow talk in the coming days as everyone descends on Indianapolis.