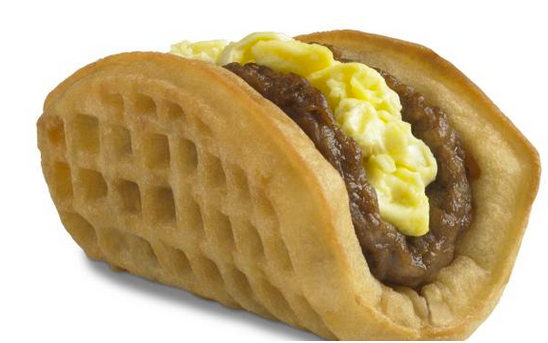 The image above displays one of the new items being introduced by Taco Bell as the Yum Brands seeks to compete with McDonald's in the breakfast space. As put forth in this Yahoo! Finance article , Taco Bell will produce four new items.
Check out the list below.
– A.M. Crunchwrap — scrambled eggs, a hash brown, cheese and bacon, sausage or steak in a flour tortilla.
– Waffle Taco — a waffle wrapped around a sausage patty or bacon, with scrambled eggs and cheese, served with a side of syrup.
– Bacon and Egg Burrito — Bacon, scrambled eggs and cheese wrapped in a flour tortilla
– Sausage Flatbread Melt — A sausage patty topped with cheese wrapped in a flatbread and grilled.
---
McDonald's reports that 20% of its sales come from breakfast food, and it will work to protect that base by extending breakfast hours. I mean, who hasn't shown up at 10:35am, just after they stopped serving breakfast, and yelled "It's still morning! I need a McMuffin!"
Starbucks will also launch new breakfast options.
The battlefield for your Drive-Thru dollar has intensified.