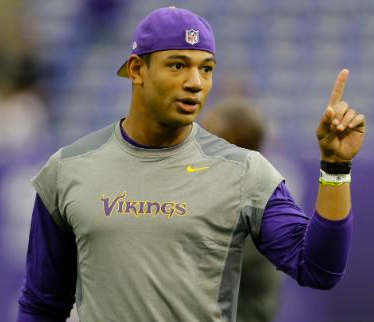 Monday's game between the Vikings and Giants ranked among the worst that we've sat through in some time. Both offenses struggled markedly, and Josh Freeman's frequent overthrowing of his receivers (16 times) became the subject of derision and scrutiny across the social media landscape and the broadcast network airing the game. I shan't repeat some of the quips here, as I fear the FCC suddenly extending their jurisdiction to include this site.
Well, despite the dismal performance, Freeman was expected to start the Vikings' Week 8 game against the Packers. On Wednesday, it was announced that Freeman was experiencing concussion-like symptoms and that Christian Ponder would likely return to the starting role.
Former All-Pro and Super Bowl Champion Rodney Harrison joined Eytan Shander on Wednesday to discuss the NFL landscape with Freeman's situation taking center stage. The URL for the audio clips tells you everything.
"Cried about wanting to come out of Tampa. Now, all of a sudden, I can't say that I believe that he has a concussion."
"It seems like a convenient excuse to get out of a situation."
Take a listen to the audio: "Rodney Harrison Not Buying Josh Freeman's Injury Situation"