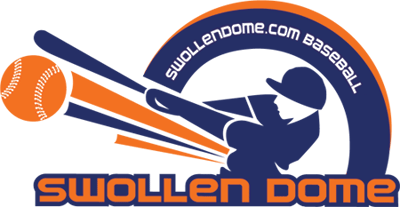 Washington outfielder Bryce Harper crashed into the right field wall while chasing down a flyball off the bat of A.J. Ellis. Harper lay on the field for several minutes receiving attention from the trainers before exiting the game. David Vassegh (@thereal_dv) of FOX Sports Radio advised on Twitter that he'd spoken to agent Scott Boras. Boras relayed that Harper required 11 stitches on his neck, but had not sustained a concussion. We'll keep tabs on this story as it develops.
Aaron Hicks was the hero of the day for the Twins in the 10-3 win over the White Sox. Hicks homered twice and brought back a would-be two-run home run from Adam Dunn.
The Angels absorbed another loss on Monday as Joe Blanton failed to escape the fifth inning. Sure, he struck out seven batters and yielded zero walks in his 4 2/3 innings. However, he allowed seven earned runs on 12 hits to raise his season ERA to 6.46.
Billy Butler rapped out five hits and drove in five runs for the victorious Royals. Butler had been mired in a 4-for-35 slump prior to his breakout Monday night.
Andy Dirks assumed the leadoff role in place of Austin Jackson, who was placed on the disabled list. Dirks went 3-for-4 with a double, a home run and four RBI in the Tigers' 7-2 win over the Astros.
Atlanta outfielder Justin Upton returned to Arizona with a tremendous performance. He went 4-for-5, including his 13th home run of the season, with two RBI. Despite his huge home run total, Upton has amassed just 23 RBI this year.
Mike Minor pitched 6 2/3 innings of one-run ball, allowing eight hits and two walks with four strikeouts. Minor extended his record to 5-2 and lowered his ERA to 2.75 in the win.
The Yankees optioned Brennan Boesch to Triple-A Scranton/Wilkes-Barre during Monday's doubleheader (a split-decision) against the Indians. Boesch's demotion paves the way for the return of Curtis Granderson, who has been rehabbing his broken forearm.
Justin Masterson pitched a shutout in the first game of Monday's doubleheader. Masterson won his sixth game for the Indians by limiting the Yankees to four hits and three walks against nine strikeouts.
Travis Wood shut down the visiting Rockies to earn his fourth win for the Cubs. He pitched seven shutout innings, allowing two hits and three walks (two strikeouts). Wood lowered his season ERA to 2.02. Look a little deeper. Wood has allowed just 5.2 hits per nine innings.
The Cubs also came to terms on a seven-year, $41-million contract with first baseman Anthony Rizzo. Toni Ginnetti of The Chicago Sun-Times reports on the contract negotiations and Rizzo's history with the Chicago brass.
Milwaukee shortstop Jean Segura ran wild against A.J. Burnett, swiping three bases in the Brewers' 5-1 win. Segura has stolen five bases in his past three games and 13 overall. Segura went 3-for-5 with one RBI to raise his season batting average to .368.
Neil Walker went 0-for-4 with a strikeout in his return to the Pittsburgh lineup.
Jon Paul Morosi wrote a story for FOXSports.com about the resignation of Houston president and CEO George Postolos.