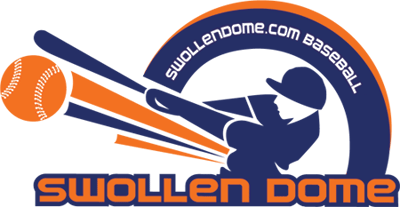 As longtime readers know, I grew up on the South Side. Yes, it needs to be capitalized. The White Sox have long turned to trainer Herm Schneider to monitor player health, and his ability to rehab players is the stuff of baseball legend (Bo Jackson, anyone?). Jeff Passan of Yahoo! Sports wrote a piece chronicling Schneider's tenure in Chicago. An amazing statistical nugget that Passan shared is the fact that White Sox players spent 4,026 days on the disabled list from 2002-2012. The league average was 9,496 days.
Schneider shut down staff ace Chris Sale this week because of shoulder tendinitis. Sale is currently slated to take his next turn in the rotation against the Cubs. John Danks will return to the rotation this weekend.
If you're out and about acting like a fool, don't post it on Twitter. You're leaving a trail for the police to find you.
Evan Gattis hit a grand slam on Wednesday, his 10th of the season. Gattis has produced three hits in his past 13 at-bats. All three were home runs. Gattis has recorded 20 extra-base hits in 121 at-bats this season.
An Aramark vendor brought his snow cones into the bathroom during Wednesday's game between the Royals and Astros. Once the video hit the web, the vendor was promptly fired.
Josh Rutledge was optioned to Triple-A Colorado Springs by the Rockies. He was batting .242 with eight extra-base hits (five home runs) with 13 RBI and five stolen bases. Former Cubs prospect DJ LeMahieu takes over the everyday role. LeMahieu was batting .364 with 14 extra-base hits (one home run), 22 RBI and eight stolen bases at the time he was recalled.
Kevin Gausman cruised through the Orioles' minor league system. He'll make his major league debut on Thursday night against the Blue Jays. Fantasy owners looking for a shot in the arm for their ailing rotations may take a look-see. Kevin Cowherd of The Baltimore Sun takes a look at Glausman's rise and invokes a former top pick. Here's a look at Glausman from Brittany Ghiroli of MLB.com.
The Cardinals have been one of the most resilient teams in baseball, seemingly always having another arm ready. They'll need another arm to pick up for Jaime Garcia, who will have surgery on his left shoulder. The surgery will not be done by the usual suspects. Rather, the Cardinals' team doctor, George Paletta, will handle the task.
Former top prospect Jesus Montero got sent down to Triple-A after a dismal 29-game run in Seattle. Expectations were high following Montero's 15-homer, 62-RBI campaign in 2012. He'd produced five extra-base hits (three home runs) and nine RBI in 101 at-bats with a .208 batting average. Jesus Sucre takes his slot behind the dish.
Francisco Liriano pitched seven shutout innings against the Cubs to earn his third consecutive victory since returning to the Pittsburgh rotation. Liriano has allowed two earned runs in 18 innings since his return with 25 strikeouts against six walks. He's yet to allow a home run. Take a peek on the wire. He may still be sitting in limbo in your league.
I hope that I don't jinx him by calling attention to his progress, but a man named Aaron Brown has pieced together a 45-game hitting streak in the MLB.com Beat The Streak game. If he can surpass "The Yankee Clipper's" streak, Brown stands to win $5.6 million. He's utilized Miguel Cabrera 20 times during the streak. Check out the full story on MLB.com.
And you know I love to bridge the worlds of sports, entertainment and technology. An article from TechCrunch described how doctors used 3-D printing technology to make an emergency air passage for a 20-month old baby boy. We've seen stories about the potential dangers of the technology (guns), but this is a damn cool innovation. Kudos to the medical staff and the FDA for working to get it done.