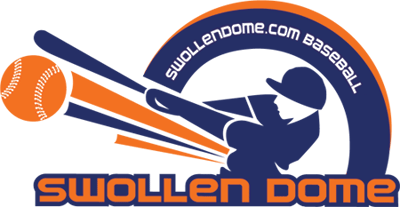 We are in that portion of the season where pitching rotations have been ravaged by injuries. No team has been hit as hard by injuries as the St. Louis Cardinals, who promoted 21-year-old Michael Wacha to pitch Thursday's game against the Royals. He allowed one earned run on two hits in seven innings while striking out six batters. Wacha got 67 of his 93 pitches over for strikes with a 10-to-6 groundball-to-flyball ratio.
Domonic Brown absolutely crushed the month of May for the Phillies. Brown batted .233 with three home runs and 11 RBI in April. He enters Friday's action with a .295 May batting average, 10 home runs, 21 RBI and three bonus stolen bases.
Matt Kemp was placed on the disabled list because of a hamstring injury. The rise of Puig is imminent. I'm telling you.
Dylan Hernandez of The Los Angeles Times discusses the health of Josh Beckett, who has experienced numbness in his hand for weeks.
Travis Wood hit a grand slam off of Jake Peavy (the fifth of Wood's career) to propel the Cubs to a third straight win over the White Sox. Wood allowed two earned runs in six innings on five hits and two walks with six strikeouts. He earned his fifth win of the season and rebounded nicely from a rough outing against the Reds.
Cubs pitchers entered Friday's game with 19 RBI in the month of May. Ponder that for a moment.
They're prepping Expendables 3 and … trying to add Nicolas Cage and Wesley Snipes.
It's been a rocky couple of weeks for Jim Johnson of the Orioles. Fans have been exclaiming "Who will save (for) us?" Johnson has registered back-to-back clean appearances with two innings pitched and three strikeouts. He's converted 17-of-21 save opportunities overall.
We've heard the term "method actor" bandied about, and tales of Daniel Day-Lewis' preparation are the stuff of legend. Here's a story about the late Heath Ledger's diary as he prepared for The Dark Knight.
Alex Presley was recalled from Triple-A Indianapolis by the Pirates. Presley was batting .281 with four home runs, 11 RBI and nine stolen bases at the time of his recall.
Dan Haren dropped his third straight decision despite pitching 7 1/3 strong innings against the Orioles. Haren allowed two earned runs on eight hits with five strikeouts, a strong follow-up to his effort against the Phillies. He's allowed five earned runs in 13 1/3 innings in his past two starts with 15 strikeouts and one walk. Haren's logged 51 strikeouts against nine walks overall.
The media reacted strongly when the Rangers announced that head coach John Tortarella had been fired following his team's exit from the NHL Playoffs. A former Rangers star Sean Avery gave his reaction to the news.
Tags
Alex Presley
,
Baltimore Orioles
,
Chicago Cubs
,
Dan Haren
,
Domonic Brown
,
Expendables 3
,
Fader
,
Fantasy
,
Fantasy Baseball
,
Greg Dulli
,
Harmon
,
Jim Johnson
,
John Tortarella
,
Michael Wacha
,
Mike Harmon
,
MLB
,
New York Rangers
,
OMG
,
Painting The Corner
,
PTC
,
Sean Avery
,
St. Louis Cardinals
,
Swollen Dome
,
SwollenDome.com
,
SXSW
,
The Afghan Whigs
,
The Expendables
,
Travis Wood
,
Usher
,
Wood