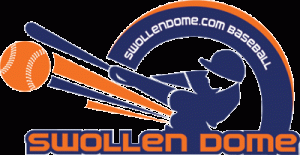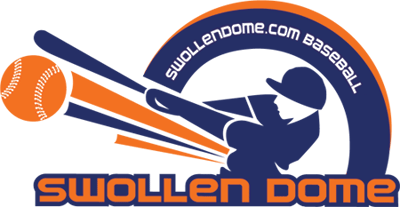 Initial X-rays from Los Angeles revealed no break in Jered Weaver's left arm on Sunday. On Tuesday, it was revealed that Weaver had, in fact, sustained a "non-displaced radial head fracture in his left elbow. Garrett Richards will take his spot in the rotation, and strikeout machine Dane De La Rosa was recalled from the minor leagues to fill Weaver's roster slot.
The Cubs can see bright days on the horizon with several potential stars waiting in the minor leagues. In the interim, the front office will be guided by the ongoing efforts to refurbish Wrigley Field.
Tigers catcher/DH Victor Martinez was not in Tuesday's lineup against the Blue Jays after sustaining an injury that required eight stitches. He was injured by the bat rack. Put it on the list of mutant injuries for 2013.
Did you listen to people that were excited about Ubaldo Jimenez's first start of 2013? Good. I had hoped you'd picked up some of the cynicism and skepticism that pervades this space. Martinez failed to escape the fifth inning in Tuesday's start against the Yankees. He allowed seven earned runs on seven hits (two home runs) and three walks. Jimenez will face the White Sox in his next start.
Madison Bumgarner wasn't at his best for the Giants on Monday. He allowed two earned runs on five hits and five walks in 5 2/3 innings pitched. Bumgarner threw only 62 of his 104 pitches for strikes. He still got the win, as the San Francisco bullpen did its job. Sergio Romo earned his fourth save of the season.
He must really like playing with his brother. Justin Upton went 4-for-4 and launched his sixth home run of the season in the Braves' 2-0 win over Miami.
The Navy's Blue Angels announced that the remaining dates on the 2013 schedule have been canceled because of the sequestration.
Fans and fantasy owners are starting to panic following Roy Halladay's disastrous outing against the Mets. Halladay allowed seven earned runs on six hits and three walks. He completed only four innings. He's allowed 12 hits and six walks in his two starts, spanning just 7 1/3 innings.
Halladay and the Phillies were beaten by Matt Harvey, who tossed seven innings of one-run baseball and struck out nine batters. He's allowed one earned run in 14 innings pitched overall with 19 strikeouts against four walks.
Closers have fared terribly overall this season, particularly in non-save situations. Mitchell Boggs allowed seven runs, six earned, on two hits and four walks in a terrible performance against the Reds.
Owners avoided Clay Buchholz in drafts following a rough 2012 season. He's come out of the gate strong with wins against the Yankees and Orioles. Buchholz threw seven shutout innings against Baltimore Tuesday with eight strikeouts.
Finally, thieves made off in Germany with nearly $21,000 of Nutella.
Go have yourself a sandwich.