I'm going to start up a new project for NFL 2017.
Following each game of the NFL season, I will summarize things in one PowerPoint slide.
So, I'm dialing up the "One-Board Recap."
It'd be easy to fire up the stats recorded from Alex Smith, Tyreek Hill and Kareem Hunt. Hell, this game featured 11 "Explosive Plays" of 19 yards or more recorded during this contest between the two teams.
Sometimes, stats tell the tale. Sometimes, it'll be a play or summary of a key sequence. And, of course, I love the language in post-game press conferences.
For this 42-27 opening win by Kansas City, I'm just going to snag a great quote from Bill Belichick. He summed up the New England loss in this magnificent mantra.
Apply it to your life.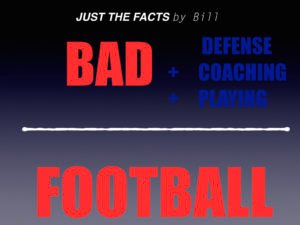 Tags
2017 NFL
,
Alex Smith
,
Belichick
,
Bill Belichick
,
Chiefs
,
Danny Amendola
,
FOX Football Fantasy
,
FOX Sports Radio
,
FSR
,
Harmon
,
Kansas City Chiefs
,
Kareem Hunt
,
Mike Gillislee
,
Mike Harmon
,
New England
,
New England Patriots
,
NFL Season 2017
,
One Board Recap
,
Patiots
,
Swollen Dome
,
SwollenDome.com
,
Tyreek Hill