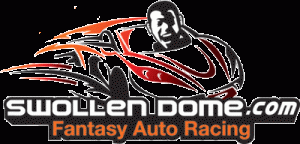 This weekend's 55th running of "The Great American Race," also known as the Dayton 500, might rank among the most-anticipated turns at the track in quite some time. First, you have the arrival of the new Gen-6 car, a design that promises to "bring the stock back to stock car racing." Second, you have Danica Patrick racing from the pole position. Third, fans wait anxiously to see whether Juan Pablo Montoya can top his jet dryer truck incident from 2012. Fourth, and this tidbit may only interest me, I'm curious to see whether Grand Marshal James Franco floats off in a hot air balloon after shouting about starting engines. That's not entirely off-base as we look to bring pageantry and a little bit of magic to the "Super Bowl" of the Sprint Cup Series season.

• As an added bonus, Ray Lewis will return from a quiet couple of weeks post-Super Bowl to wave the flag … and undoubtedly fire off a squirrel dance.
ADWEEK reported that all advertising inventory has been sold for Sunday's coverage and that most of the network's inventory for its portion of the Sprint Cup schedule has been sold. Thirty-second ad spots reportedly cost $550K for this marquee event. Motorists are paying elevated gas prices at the pump, but business is good in the racing world. Ad prices for this telecast reportedly increased by $75K for a 30-second ad over 2012 prices (per ADWEEK).
With that in the background, let's roll onto the track and break down the field. I will be posting my fantasy squad here on the Dome and in the Twitterverse (@swollendome) ahead of qualifying each week. The unique qualifying schedule for Daytona allowed me to be a slacker.

Let's dominate.
---
Following The Leaders:
Kevin Harvick:
Analysis: For those looking to "invest" in a driver on Sunday, Harvick is the current favorite on the big board. He owns the second-best average running position among active drivers. Harvick has registered 10 top-10 finishes in 23 career Daytona starts, including two victories. The No. 29 Budweiser Chevy will start in the second row after winning one of this week's duels.

Matt Kenseth:
Analysis: Kenseth ran a beautiful race in the season opener last season, capitalizing on his fourth-position qualifying effort to win his first Daytona race in 25 starts. He's produced seven top-10 finishes in 10 Daytona starts during the past five years, including two wins. Over an eight-year span, Kenseth owns the third-best average running position (14.2) with a 13.6-position average finish. Taking a long view, Kenseth has placed in the top 10 in half of his 26 career starts.

Kyle Busch:
Analysis: Do you want to feel like you're dominating during the race? If so, I suggest slotting Busch as one of your starters this week. Busch raced inside the top 15 for 72.4% of all laps run in the past eight years to lead the circuit. He's also a past winner at the track with six top-10 finishes in 16 starts (five top-5 runs). As always, the selection of Busch does carry some risk. He's posted three DNFs in his Daytona career. Perhaps Busch's victory in the Budweiser Duel 2 is a good omen for Sunday.

Tony Stewart:
Analysis: One of the top storylines (read: talking points) for this race is that Stewart has never experienced the thrill of victory lane in the Daytona 500. "Smoke" is a four-time winner at the track overall and has logged 12 top-10 finishes in his 28 career starts. The No. 14 Bass Pro Shop/Mobil 1 Chevy will start in the seventh row to fall in line with Stewart's average start in his Daytona career (11.6). In the past eight years, Stewart's posted the second-best average running slot (13.9), second-most top-15 laps (63.5%) and a 13.4-position finish. Could "Smoke" challenge his teammate, Danica Patrick, for that first win?

Dale Earnhardt, Jr.:
Analysis: Earnhardt, Jr. owns the best average finish among all active drivers at Daytona. He's produced two wins and 14 top-10 finishes in 26 career starts to yield a 14.5-position average finish. In the past eight seasons, Earnhardt, Jr. has produced the fourth-best average running slot (14.7) with a strong 15.3-position finish (third-best in the Sprint Cup Series). Last season, the No. 88 Chevy raced at the top of the pack en route to a second-place charge. He's worth a start in the middle of the lineup.

Carl Edwards:
Analysis: In the past five years, Edwards has tied Matt Kenseth for the best average finish among all drivers. He's logged seven top 10s in 10 starts, including three top 5s. Most impressively, the No. 99 Ford has avoided the usual carnage of Daytona by finishing each start during this period. He'll start from deep in the pack this weekend (18th row), so Edwards will need a big ride to do some back-flipping.

Clint Bowyer:
Analysis: Bowyer owns the third-best average finish among all active drivers. He's produced a 15.8-position average finish in 14 Daytona starts, including six top-10 runs. Bowyer has averaged a 16.5-position average running slot in the past eight years, good for 11th on the circuit. I would be remiss if I failed to note that he ran inside the top 15 for only 50.1% of the laps run during this period.

Paul Menard:
Analysis: Perhaps Menard belongs in the "longshot" range for this event, but I like his value this week. Menard has averaged a 22.6-position starting slot in 11 career Daytona starts. However, he's climbed to a 17th-position average finish. Menard rode to a sixth-place finish last year, climbing a full 31 spots over his qualifying effort.
---
Approach With Caution:
Jimmie Johnson:
Analysis: Johnson's always a threat coming into the Chase, but Daytona has not been one of his strongest tracks. Sure, he's registered a fantastic qualifying effort, on average (9.6-position average start). However, Johnson and his No. 48 Lowe's Chevy team have struggled to capitalize on those strong starts. He's produced nine top-10 finishes in 22 starts (one victory) with five DNFs. Johnson has averaged a 22.9-position finish here over the past eight seasons.

• I'm intrigued to see how Johnson and his team navigate the new Gen-6 car. I'll still hold back for later runs.

Jeff Gordon:
Analysis: The iconic driver of the No. 24 Chevy has piled up 40 starts in his Daytona career. He's eager to reclaim his position at the front of the field this week and will start from the second position. In the past eight years, Gordon has averaged the fifth-best running slot (14.9). However, Gordon has been unable to finish the job, producing just a 19.6-position average finish. Whenever we have a big change, like the introduction of the Gen-6 ride, it's awfully difficult to turn away from the Hendrick rides. Is it enough to offset Gordon's recent struggles here? I believe I'll hold back for another ride.

Denny Hamlin:
Analysis: I'll keep it brief. Hamlin has yet to experience his breakthrough moment at Daytona. Yes, he's generated two top-5 finishes in his 14 career starts. However, Hamlin's produced a disappointing 21st-place average finish. Unfortunately, he's been unable to capitalize on strong qualifying efforts (14.7-position average start) and has run fewer than 50% of all laps inside the top 15 (48.5%).

Juan Pablo Montoya:
Analysis: Avoid the jet dryer. That's pretty much it when it comes to Montoya's Daytona effort this week. OK, that's not true. Montoya has produced four top-10 finishes in his Daytona career, but he's also posted four DNFs. He's averaged a 21.7-position average finish in 12 starts overall. I would consider him for a back-end roster slot. Just recognize that there's a ton of risk associated here.

Greg Biffle:
Analysis: Longtime readers know of my affinity for Biffle and his No. 16 Ford. Unfortunately, Daytona represents a tough spot for him historically. He's produced five top-10 finishes in 20 career Daytona starts, including a victory. Taken further, Biffle has averaged a 20.5-position average finish. I'll wait for another run.
---
Longshots:
Danica Patrick:
Analysis: Call me intrigued. Patrick looks to become the first pole sitter to win the Daytona 500 since Dale Jarrett did so in 2000. She was also the top qualifier here last year in the Nationwide Series, so racing from the front of the pack is nothing new here.
I understand the reticence to select the No. 34 GoDaddy.com Chevy given Patrick's struggles during her introduction to the Sprint Cup Series last year. She finished 23rd or worse in each of her 10 starts last season, including a 38th-place finish in the season opener at Daytona. Patrick started from the 29th position and averaged a 39th-place running slot. Roll the dice that Patrick is ready for her breakthrough moment at the back-end of your roster.

• The selection of Patrick also frees up a start for one of the usual heroes down the road. The No. 34 ride is a good strategic option this week.

Ricky Stenhouse, Jr.:
Analysis: Stenhouse, Jr. finished 20th in his introduction to Daytona. He averaged a 23.2-position in his Daytona debut. The "Rookie of the Year" candidate will start in the 14th row this weekend. I toss him up as the proverbial bookend to Patrick. We like storylines. What?

Brad Keselowski:
Analysis: The defending champion represents a difficult choice for fantasy participants this week. Keselowski and the Penske team switch manufacturers for the 2013 campaign from Dodge to Ford. That causes me to take pause before saddling up for a repeat ride. He's averaged a 20.6-position average running slot and 24.9-position finish at Daytona in the past eight years. Perhaps he can draw some inspiration from Ray Lewis' presence. I'll wait for another run.

David Reutimann:
Analysis: Reutimann's name doesn't inspire tremendous confidence, but he's worthy of consideration for those owners looking for a deep price shot while conserving starts of the usual suspects. He's produced one top 5 in 12 career Daytona starts with two DNFs and a 21.8-position average finish.