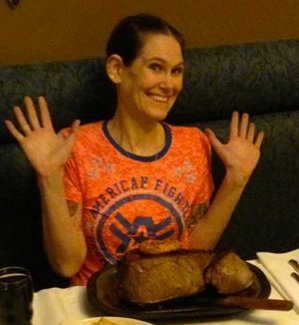 Joey Chestnut retains the belt in the hot dog-eating challenge that occurs annually on July 4. This weekend, Chestnut saw another of his marks fall to the wayside, as Molly Schuyler of Nebraska wolfed down two 72-ounce steaks in under 10 minutes. That's 144 OUNCES OF MEAT … plus the sides.
I'm just awestruck by the feat. I'm a man of considerable appetite, but I couldn't approach the first round of meatatarian (a new word, I know) bliss. It's that damn fat band that was the talk of the Kobayashi craze.
Anyway, fans (or those just curious) of the competitive eating scene and "extreme food" shows know of The Big Texan in Amarillo, an establishment that has long offered

This might be the best line from the FOXSports.com write-up.
"We witnessed history," Big Texan co-owner Danny Lee told the Amarillo Globe-News. "If there's a zombie apocalypse, I want to stay away from this girl."