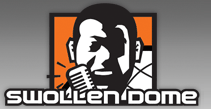 Don't worry. I'll celebrate Matt Harvey's heroics in grand fashion on the Dome come Wednesday. I wanted to acknowledge and celebrate a great off-field act from Dodgers star Matt Kemp.
The video of Matt Kemp's gracious and heartwarming act in San Francisco has dominated social media for the better part of the past 24 hours. If you missed it, you can watch it below.
Details of the meeting between Kemp and a young man battling cancer became an instant water cooler moment and bonding opportunity. It now stands as a shining example of the bond that exists between players and fans and, based on the page view counts, people in search of good amid a seemingly endless parade of negative stories. Tim Brown of Yahoo! Sports spoke to Kemp and filled in the blanks about this
fantastic moment.
As the article points out, Kemp had made the final out in that game, and the Dodgers had lost their fourth straight game (a streak that now stands at six games).