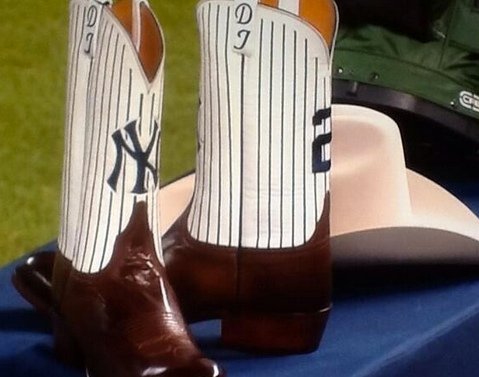 On Wednesday night, the Astros celebrated the lengthy career of future Hall of Famer Derek Jeter of the Yankees. His former teammates, Roger Clemens and Andy Pettitte, were in attendance as the Astros presented the first gifts of the tour. And they're memorable …
OK, so the first of the gifts goes to the overall retirement cliche of golfing. You got it. They gave him some golf clubs.
And, if you're in Texas, you get a beautiful Stetson hat. Although, seeing as he's an opponent, shouldn't it have been black? Jeter was given a white hat … a hero's hat.
Those gifts were all fine and good. The finishing touch was the pair of boots provided with a unique split in style. The base of the boots look like a pair of dress shoes. There are Yankee pinstripes up the side along with the Yankees logo and Jeter's uniform number. His initials appear on the bootstraps.
The bar was set pretty high by these funky boots. I want to know who gets the rights to mass-produce them.
I will be tracking this season-long celebration of "El Capitan." What's next?