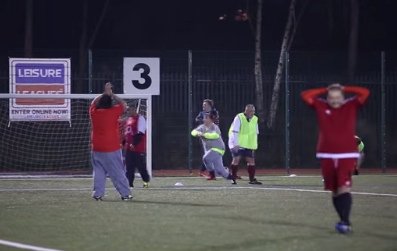 I saw this story published earlier this week by our colleagues at FOX Soccer and it made me smile. It's a different take on the annual rite of "weight loss" resolutions on New Year's Day.
Started by a man frustrated by his inability to find the motivation and support through traditional weight loss programs, "Man V Fat Football" is starting to expand in England. The league was established for men with a BMI (Body Mass Index) of 30 or higher.
Here is the chart for those who haven't visited a doctor recently: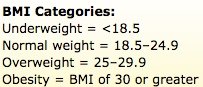 And, by punching in the numbers on a BMI Calculator, you can find out whether you're ready to battle me for a midfielder position.
We hold up on couches, easy chairs and barstools to watch games and lament our inability to participate. I know my knees and joints ache and, while some of it can be attributed to playing recklessly in my youth, a few extra laps or channeling my inner Philip Seymour Hoffman to "Let it rain!" would be advisable. I'm creating a blog to chronicle my own "Road to Swoll" and the good, bad and ugly steps along the way.
————————
Be inspired. Check out the details of the Man v Fat Football league.
Watch the video, voiced by founder Andrew Shanahan, who shares his story of weight loss and the founding of this movement. I'll be watching to see if it takes hold … and how quickly it's adopted in the United States.
Tags
30 BMI
,
Along Came Polly
,
Andrew Shanahan
,
England
,
Fitness
,
Harmon
,
Health
,
Jamie Oliver
,
Leisure Leagues
,
Man v Fat Football
,
ManVFat.com
,
Mike Harmon
,
New Year's Resolution
,
Philip Seymour Hoffman
,
Swollen Dome
,
SwollenDome.com
,
Thomas Hautman
,
Weight Loss
,
Weight Loss Programs
,
Weight Loss Support
,
XL Soccer