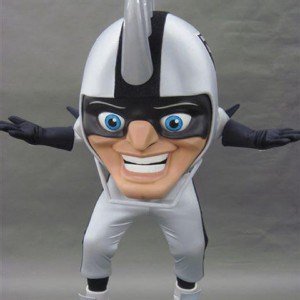 I'm going against the prevailing sentiment that the arrival of "The Raider Rusher" was a bad idea. The NFL helped produce a cartoon. They wanted to bring their players and the league to children.
There had to be a line of toys and elements to be sold, right? Hell, I've seen team-licensed ZOMBIE figures in stores, so why is adding a mascot a big deal? Sure, he's got spikes running down the center of the helmet and a fiendish, menacing grin on his face.
But don't we associate "The Black Hole" with people dressed up in costume? Add "The Rusher" to the mix.
Here's a complete write-up from CBS San Francisco.