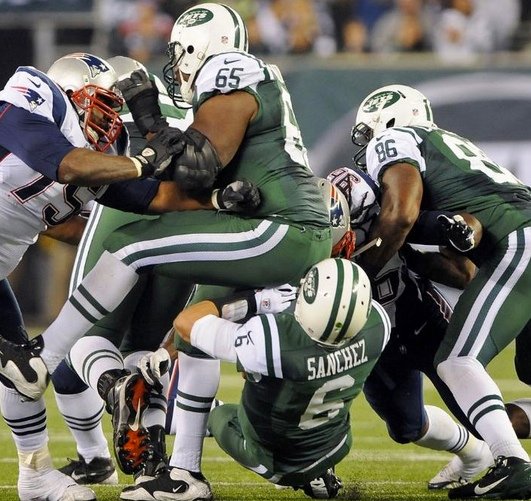 How Did I Miss This? Sanchez Butt-Fumble Jersey Sold
————
I saw the headline of this story from the Shutdown Corner blog at Yahoo! Sports.
One Jets fan pays big bucks for Mark Sanchez's 'Butt Fumble' jersey
I immediately started scrolling through the article to see what price was paid for this significant piece of recent NFL history. I imagined that the play's mark in pop culture, innumerable airings on highlight packages and the fact that it was a Jets jersey would push the price to a lofty level.
When I saw that Jake Hendrickson paid a mere $820 for this gem from the NFL.com Auctions site, I let out an audible string of profanities.
$820!?
That's it? I would have paid significantly more for that jersey, if only to wear it every day during the season to torment my on-air partner at FOX Sports Radio, Jason Smith. The MEI Gray site includes game-worn jerseys from the Jets and features a Plaxico Burress gamer at $1,500. Seriously, the world-famous "Butt-Fumble" jersey sells for just over half of that rate?
I'm disappointed that I missed that auction and vowed to be more vigilant in the future. That's a piece of history, procured for a song.
Check out the article here.