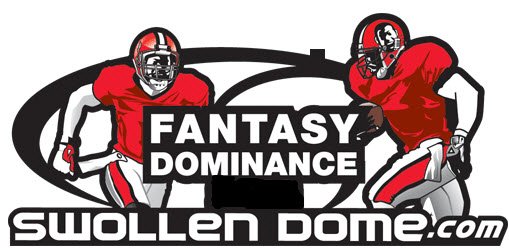 I always preach patience in fantasyland. The knee-jerk reactions of fantasy owners to slow starts or muted single performances leave you with whiplash. Where possible, you keep a bench slot available to rotate out emerging players, stash a flier running back or pick up that spot-play defense. But, I'm already seeing huge churn on the waiver wire, dubious trades and abandonment.
The number of trades involving C.J. Spiller, Dwayne Bowe and David Wilson passing my phone and inbox leave me concerned. Why would you sell a player at their minimum value?
Anyway, I suppose that the "wait and see" mantra flies out the proverbial window when NFL teams are already making trades (Trent Richardson) and benching starting quarterbacks (Josh Freeman).
Let's fire up the waiver wire ahead of the Week 4 kickoff between the Rams and 49ers.
Terrelle Pryor, QB, OAK:
Analysis: Pryor represents a fantastic spot play this week against the sieve-like Washington pass defense. Of course, we'll need to monitor his health as the practice week progresses (concussion-like symptoms). The Redskins have allowed the second-most fantasy points to quarterbacks this season, and we've seen some hints of downfield play-making ability (see Denarius Moore below). Pryor passed for 281 yards (19-of-28) with a touchdown and 36 rushing yards in Monday's blowout loss to the Broncos.
Alex Smith, QB, KC:
Analysis: Smith passed for 273 yards, adding 32 rushing yards while absorbing five sacks in the Chiefs' Week 3 win over the Eagles. Alas, he failed to produce a single touchdown and Dwayne Bowe was virtually erased from the box score. Still, it's a strong matchup against the scuffling New York Giants defense.
The Giants' early-season failures have been well-chronicled. The offense has been anemic and the defense has allowed over 38 points per game. New York's secondary has been ravaged by injuries and, let's face it, the offensive issues lead to scoring opportunities.
Philip Rivers vs. DAL:
Analysis: Rivers posted an efficient game against the Titans, but his 20-of-24 performance netted 184 yards and one touchdown. Granted, he did have one touchdown called back, but that's not helping your final line. Rivers has completed 70% of his pass attempts through three weeks with eight touchdowns against a single touchdown.
The Cowboys have scored the sixth-most fantasy points to quarterbacks this season (304.3 yards and 2.3 passing touchdowns per game).
Le'Veon Bell, RB, PIT:
Analysis: Ben Roethlisberger has been quoted as questioning Bell's focus and energy (or is he just motivating?). Regardless, Bell is slated to make his season debut this weekend against the Vikings in London. The Steelers intended to use Bell as a workhorse, but injuries limited his availability in training camp and held him out for the first three weeks of the year.
Bilal Powell, RB, NYJ:
Analysis: As the draft season progressed, I declared Powell the only Jets player that I would take a shot at owning. Chris Ivory's injured once again, leaving Powell the opportunity to shine against the Bills. His 149 rushing yards, third among all running backs, puts on the board as a hot commodity for Week 4.
The game-by-game progression and comfort level of Geno Smith portends to decent balance going forward, particularly if the defense continues to play well.
Jason Snelling, RB, ATL:
Analysis: Snelling posted a fantastic game in tandem with Jacquizz Rodgers in Week 3. He logged 111 total yards on 15 touchdowns, including a touchdown reception. Look for another double-digit touch count this week against the Patriots. Snelling's inclusion in the passing game (five targets, four receptions) is the important part of the stat line.
Bernard Pierce, RB, BAL:
Analysis: Pierce didn't post a dominant rushing average (2.7 yards per carry), but he tallied 24 carries, including a goal-line plunge to put fantasy owners over. The Ravens are optimistic that Ray Rice will return to action, but Pierce is an essential handcuff pickup with potential lingering effects from the hip injury.
Josh Gordon, WR, CLE:
Analysis: My guess is that fantasy owners were click, click, clicking on the waiver wire as soon as Gordon streaked to the end zone early in Sunday's win over the Vikings. I expected him to have an impact upon returning to the Cleveland lineup, but I could not have anticipated a 19-target outing (10 receptions for 146 yards).
This week's matchup against the Bengals isn't ideal, but we know a couple things coming out of Week 3. The Browns are intent on getting Gordon the ball (and Jordan Cameron's brilliance hasn't hurt), and Brian Hoyer has no fear. He'll put the ball up and try to make plays. That's good for fantasy business.
Santonio Holmes, WR, NYJ:
Analysis: Holmes came into the regular season with many questions surrounding his health and the effectiveness of the New York offense. Holmes has found his legs, and Geno Smith is starting to work the ball downfield more efficiently. Holmes has posted nine receptions in 18 targets for 218 yards through three weeks and, more importantly, has played 133 snaps in the past two weeks.
Ryan Broyles, WR, DET:
Analysis: Broyles is the primary beneficiary of the Nate Burleson pizza incident. He caught three passes for 34 yards in his season debut against the Redskins. The Bears will do everything to contain Calvin Johnson on Sunday, thereby giving the secondary receivers an opportunity to shine. Broyles represents a solid WR3 Ninja against the banged-up Chicago secondary (Charles Tillman's availability is a question).
Denarius Moore, WR, OAK:
Analysis: Moore was on the board as a deep "Ninja" option in Week 3 against the Broncos. We say it so frequently. All yards and touchdowns count until the final bell rings. Moore finished Monday's game with six receptions on 11 targets for 124 yards with a touchdown. It was a fantastic rebound after being shut out by the Jaguars in Week 2. Lob it up against the Redskins.
Heath Miller, TE, PIT:
Analysis: The Vikings have already allowed six receiving touchdowns to tight ends. Miller returned to action in Week 3 against the Bears and will undoubtedly take on a bigger role in London. The back-seven of the Vikings has had no answer in coverage, where Chad Greenway has struggled markedly.