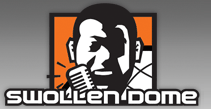 Harmon returns to the microphone to chat up a big day in the legal world … at least there seem to be a lot of sports stories working through courts.
— Bill Belichick took to the microphone to address the Aaron Hernandez situation while Hernandez appeared in court.
— A doctor who examined Alex Rodriguez spoke on WFAN in New York and asserted that Rodriguez has no quadriceps injury.
— And the usual silliness that you're used to with what's rolling around Harmon's Dome.