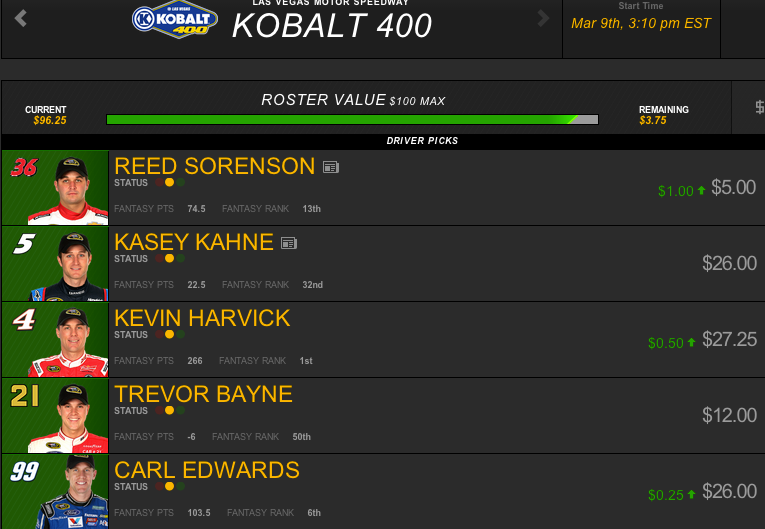 It's that time again. The Sprint Cup Series invades Las Vegas Motor Speedway this weekend. Dale Earnhardt Jr. and Kevin Harvick have already experienced the thrill of Victory Lane in 2014.
Hendrick teammates Jimmie Johnson and Jeff Gordon have been the most successful drivers in Las Vegas. Salary Cap restrictions forced me to eschew the selection of those drivers, so I worked to find a couple of price shots to pair with Kevin Harvick (who won for me last week). I added back-flipping Carl Edwards to the squad for this run.
Check out the rest of my lineup above and compete on NASCAR.com.
And if you want to watch the race or sporting events without running crawls and score updates, check out the TickerBlocker …

Tags
2014 Sprint Cup Series
,
Carl Edwards
,
Dale Earnhardt Jr.
,
Fantasy Auto Racing
,
FOX
,
FSR
,
Gordon
,
Harmon
,
Harmon's Las Vegas Motor Speedway
,
Harmon's Las Vegas Motor Speedway Fantasy Roster
,
Harvick
,
Jeff Gordon
,
Junior
,
Kasey Kahne
,
Kevin Harvick
,
Las Vegas Motor Speedway
,
Mike Harmon
,
Reed Sorenson
,
Sprint Cup
,
Sprint Cup Series
,
Swollen Dome
,
SwollenDome.com
,
TickerBlocker
,
Trevor Bayne