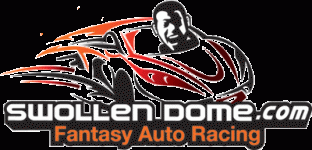 It's time for another round of NASCAR Sprint Cup action. This time, the circuit gears up for a battle at Darlington Raceway in South Carolina. We watched weather delays and the customary "big one" at Talladega last week. Ryan Newman found himself driving with Kurt Busch's #78 Chevy on top of him after Busch's car flipped on the famed track. He then lost $25,000 from his wallet when he issued the following statement.
"They can build safer race cars, they can build safer walls, but they can't get their heads out of their asses far enough to keep them on the race track, and that's pretty disappointing," he said after exiting the infield care center. "I wanted to make sure I get that point across, and y'all can figure out who 'they' is."
David Ragan eventually earned a win that was accompanied by harsh criticism and a barrage of Tweets from defending series champion Brad Keselowski before he ultimately apologized. Can Ragan and the Front Row team rise again?
Jimmie Johnson started on the front row last year and cruised to victory. Keselowski's got a 9.3-position average finish at the track. They head up my squad for this week's run in South Carolina in the "A" group. Martin Truex Jr. is a top-notch option for the "B" crew ahead of Kyle Busch and the venerable Mark Martin.
Regan Smith, a former winner here, represents the longshot option out of the "C" group this week.
Check out my Fantasy Auto Racing for the Darlington Bojangles Southern 500.