I haven't done 17 versions of Mock Drafts ahead of tonight's festivities. But, I felt compelled to at least toss a couple darts in the direction of this spectacle.
Because we offered up some bold predictions in my shows on FOX Sports Radio, I included trades affecting the top 6 (had to include the Jets to needle my tag-team partner, Jason Smith). Dan Beyer and I talked of our hopes to break a handful of correct selections on Sunday's edition of our "FOX Sports Sunday" (6-10a PT) ranting.
* I recognize that there may additional trades along the way, but I haven't added that insider tag just yet. And I'm taking credit for any player that lands with the team indicated, however they arrive at that destination.
In that vein, I've been reading team sites, predictions and spent a lot of time watching clips instead of binge-watching some Sci-Fi thing on Netflix.
I did take the OVER in the QB prop bet world on Wednesday's FSR show with Jason Smith. So, I had to jam a fourth QB at the back-end of the round.
Frankly, I wouldn't be surprised to see Deshaun Watson come off the board much sooner than Houston at 25. But, I add Kizer to the New Orleans mix to get my fourth.
Let's throw some darts.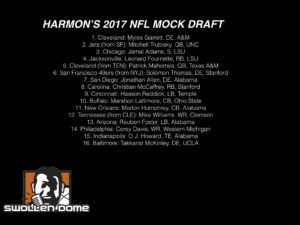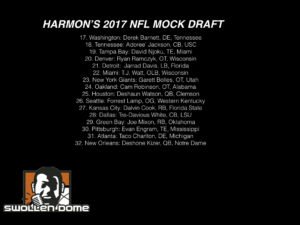 Tags
2017 NFL Draft
,
Adoree Jackson
,
Alabama
,
binge-watching
,
Dan Beyer
,
Deshaun Watson
,
Deshone Kizer
,
FOX Sports Radio
,
FSR
,
Harmon
,
Harmon's 2017 First Round NFL Mock Draft
,
Harmon's Mock Draft 2017
,
Jason Smith
,
Leonard Fournette
,
Mike Harmon
,
Mitchell Trubisky
,
Netflix
,
NFL Draft
,
Notre Dame
,
Philadelphia
,
Roger Goodell
,
Sci-Fi
,
Swollen Dome
,
SwollenDome.com