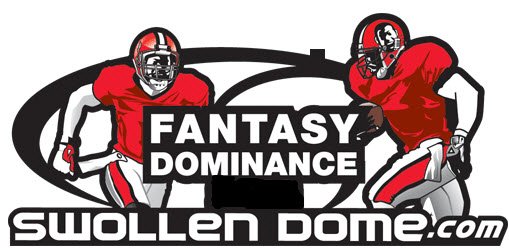 The calendar flipped to August today. As a result, it's time to start doling out the fantasyland goodness here on SwollenDome.com. Over the next several days, you will be inundated with talk of Ninjas (Sleepers, if you must), Flops, Breakthrough Heroes and a mountain of statistics. The time has come to pave the road to fantasy goodness, and I wish to be your guide.
As we examine the "Ninja" world, I'm digging deeper into the the QB2/3 slots. To some degree, it feels strange to include longtime NFL signal callers within the list. However, there are a few members of the quarterback fraternity that warrant a second look based on coaching changes (and, for one, a change of venue).
Let's get after it.
————————————————
Carson Palmer, ARI:
Analysis: Can the Arizona offensive line keep Palmer upright? We can talk about the defensive prowess on display throughout the NFC West, and the back-seven of those squads must certainly be feared. However, it all comes down to the offensive line's ability to protect Palmer and move past a dismal 2012 season. Arizona allowed an NFL-high 58 sacks in 2012. Now, though many of those sacks could be tagged on tepid quarterback play, it was a fundamentally flawed unit.
Remember, Levi Brown tore his triceps during the 2012 preseason. He's your left tackle. Bobby Massie and recent signee Eric Winston control the right side. I'm intrigued.
Palmer passed for over 4,000 yards in Oakland last season while throwing 22 passing touchdowns. His arrival (and that of Bruce Arians) has fans and pundits excited about the rebound prospects of Larry Fitzgerald (how high?) and Ninja options Michael Floyd and Rob Housler (below).
Philip Rivers, SD:
Analysis: Sometimes I wonder if these veteran options count as true "Ninjas," but I'm tossing Rivers on the board in Ken Whisenhunt's offense. As with the Cardinals above, the Chargers' offensive line was miserable. San Diego yielded the fourth-most sacks in the game (49) and failed to generate enough push to jumpstart the run game (Ryan Mathews' injury issues obviously didn't help).
The Chargers are mighty interesting on paper with first-round pick D.J. Fluker joining the fray alongside offseason acquisitions King Dunlap and Chad Rinehart. The solidification of the offensive line allows Rivers time to operate with an impressive array of receiving options.
 Danario Alexander emerged as a strong option with 37 receptions in 10 games.
 Vincent Brown was set for a breakthrough campaign in 2012, but missed the entire season.
 Keenan Allen from Cal was drafted in the third round.
 Malcom Floyd and Antonio Gates remain in the mix as well. Floyd continues to show flashes of big-play potential and produced new career marks in receptions last season. However, his receiving average dropped by 5.4 yards. And then, there's Gates. Gates isn't the week-to-week monster of years gone by and injuries have certainly taken their toll. He registered 49 receptions (tied-19th among TEs) and seven touchdowns (tied-6th) in 2012.
 Danny Woodhead offers Rivers a safety valve out of the backfield.
Josh Freeman, TB:
Analysis: Freeman produced career-high output in terms of passing yardage (4,065) and passing touchdowns (27), but his completion percentage dipped markedly (down 8%). Another offseason with Vincent Jackson (eight games with fewer than 10 fantasy points in 2012) and Mike Williams (newly-paid) leaves me enthusiastic that Freeman will put forth more consistent efforts.
Remember, this squad played without Davin Joseph and Carl Nicks on the offensive line last year. As a result, I'm anticipating better blocking up front, thereby improving Freeman's efficiency. The healthy returns of Joseph and Nicks thrust Doug Martin into the No. 2 slot on my board, and he's an integral part of the passing game (49 receptions in 70 targets).
Ryan Tannehill, MIA:
Analysis: As I write this piece, Mike Wallace (Happy Birthday) is reportedly being checked by trainers on the sideline. So, that news combined with early communication issues between Tannehill and Wallace in practice has tempered my enthusiasm to a degree.
Tannehill passed for nearly 3,300 yards as a rookie in 2012 and performed well when given adequate protection in the pocket. Assuming Wallace's injury is a temporary issue, the Dolphins clearly upgraded the receiving corps for 2013. Brandon Gibson comes over from St. Louis, and tight end Dustin Keller is most certainly an upgrade over Anthony Fasano.
Sam Bradford, STL:
Analysis: I know. I included both of the quarterbacks in the NFC West not playing in San Francisco and Seattle. I'm not alone in being intrigued by this St. Louis offense given the arrivals of Stedman Bailey and Tavon Austin (Who doesn't love Austin for 80+ receptions?). Jared Cook stands as a second-tier fantasy option with great upside after joining his former coach.
The St. Louis offensive line performed reasonably well (19th-most sacks allowed) despite injury issues and added Jake Long this offseason. He's an intriguing No. 2 option.
Jay Cutler, CHI:
Analysis: The Bears finally addressed the longstanding offensive line deficiencies by acquiring Jermon Bushrod (already in a walking boot) and drafting Kyle Long in the first round of this year's NFL Draft. Marc Trestman has been orchestrating fast-paced practices with an emphasis on quick releases and decisions from Cutler. Remember, it's an evaluation year as Cutler enters the final year of his deal (Phi Emery says "No extensions").
The seemingly unstoppable Brandon Marshall leads Cutler's receiving corps, with up-and-coming second-year man Alshon Jeffery an intriguing "Ninja" option in his own right. Add a true pass-catching tight end in Martellus Bennett and you have a multi-faceted attack with multiple red zone threats. Of course, Matt Forte remains a tremendous asset out of the backfield.
Before you rant on me about the tight end comment, remember that Mike Martz failed to utilize Greg Olsen properly.
E.J. Manuel, BUF:
Analysis: Speed kills. Early reports from Rochester put Manuel hot on the trails of Kevin Kolb, with many in attendance at practice noting that Manuel outplayed his veteran counterpart. It's a squad replete with speed at wide receiver as rookies Robert Woods and Marquise Goodwin join T.J. Graham and fantasy favorite Stevie Johnson. The backfield combination of C.J. Spiller and Fred Jackson will help bring Manuel along quickly.
Chad Henne, JAC:
Analysis: I'm not ready to bury Blaine Gabbert just yet, performance or ankle issues. It's a new regime in Jacksonville with emerging receiving options in Cecil Shorts III and Justin Blackmon (suspension to start the year). However, I would be remiss if I failed to acknowledge Henne's productivity last season. Add a healthy MJD and this offense should be more cohesive and consistent. It may not translate to wins, but we shan't dismiss the Jaguars in the fantasy realm.
Christian Ponder, MIN:
Analysis: Percy Harvin left for Seattle. He's now shelved until the final quarter of the season because of a hip injury. The Vikings possess a better receiving corps this summer, boosted by the arrivals of Greg Jennings and Cordarrelle Patterson to work alongside red zone monster Kyle Rudolph. (I still like Jarius Wright to make an impact.)
Ponder passed for nearly 3,000 yards last season with 20 total touchdowns (18 passing) against 17 turnovers. His fumbling issues need to be addressed, but Ponder's overall efficiency in 2012 is often overlooked. He completed 62.1% of his pass attempts last season, an improvement of nearly 8% over his rookie numbers. Oh, and that Peterson guy will catch a few balls along the way.
Tags
2013 Fantasy Quarterback Ninjas
,
2013 Fantasy Quarterback Sleepers
,
2013 Quarterback Ninjas
,
2013 Quarterback Sleepers
,
Arizona
,
Arizona Cardinals
,
Bears
,
Bills
,
Carson Palmer
,
Chad Henne
,
Chargers
,
Christian Ponder
,
E.J. Manuel
,
Fantasy Football
,
Football
,
Harmon
,
Jaguars
,
Jay Cutler
,
Mike Harmon
,
NFL
,
Philip Rivers
,
QB Ninjas
,
QB Sleepers
,
Swollen Dome
,
SwollenDome.com
,
Vikings