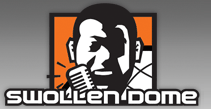 Mike Harmon takes you "Inside The Swollen Dome" for his latest podcast with Paul Charchian, FSTA president and mastermind of LeagueSafe.com and FantasyVictory.com.
You can Paul's cheatsheets and videos on FantasyVictory.com. LeagueSafe.com hosts podcasts and takes the pain out of running a league and worrying that your commissioner buys himself a television or drinks away your league fees.
Time constraints kept Harmon and Charchian from expanding the ranting playground to the video game and movie worlds. They contain the madness with talk about the sliding draft boards and would-be heroes and busts. But, they had to open things up with a little on Alex Rodriguez.
Get it on.
Audio clip: Adobe Flash Player (version 9 or above) is required to play this audio clip. Download the latest version here. You also need to have JavaScript enabled in your browser.